Earlier, coffee shops only had a few beverage choices. Filter coffee was the staple coffee option in those days, and people were content with that. If you have lived those days, then it will surely make you feel nostalgic. However, with the arrival of cafe giants like the Starbucks, the coffee sale soared up so quickly that we currently have more than 40 variety of coffee drinks.
Why am I stressing on this?
My point is, these days restaurants coffee makers need to be advanced. For a high demanding audience, you should get an equally effective, versatile coffee machine. When people visit a cafe, they expect their coffee to be refined in quality, and not just a plain drink.
7 Things to Consider While Buying a Commercial Espresso Machine
If you wish to start a cafe, then there are plethora number things to check upon. Its the mixture of the many small things that make up to a successful company. You will have to learn all the in and outs of the coffee industry, what's the on-going trend, budgeting, marketing options and much more!
One among the very first things is to get one or more coffee machines for business. You will find a lot of options, but how will you know if it's the right one for your cafe or not?
Before you jump into the lists, you need to have a clear idea of your business and what are you looking out from it. Your professional coffee maker needs must be clear.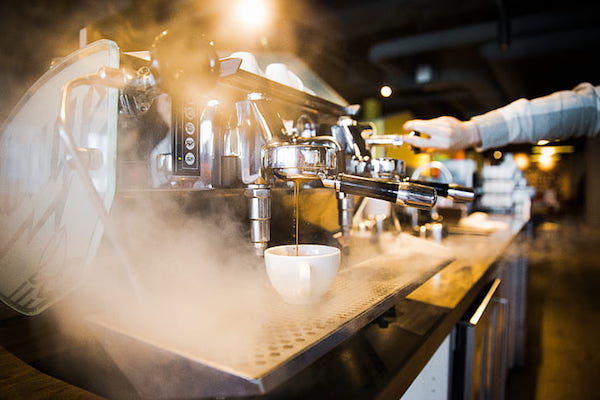 1. Quality Output
The quality of the coffee depends on many factors. Of course. Though, getting a costly espresso maker won't be of any use if you don't know how to use it. Even a basic espresso machine will brew quality coffee for you. Whichever model you have selected, make sure the coffee matches with your taste and quality preference.
2. What Are Your Commercial Needs?
How do you plan to go on with a project without knowing the things you require for it.
Similarly, for a coffee business, you should know what your needs and goals are. You decided the budget for the commercial coffee makers first. Good, now what next?
Start with things like how many coffee serving would be required in a day?
Generally, small scale business can go with a low-sized machine with a target of 50 cups in a day whereas medium machines for 150 to 200 cups. If it goes more than 200 cups, go for a large-capacity coffee machine.
3. How Much Convenient Is Your Machine?
To answer this, you got to be sure of how you are willing to use the coffee unit?
Is it for those busy morning hours, where you need quick results? or you are ready to take the process slow?
For someone who wants the best in convenience unit, would prefer the super automatic models. It would be a one-touch industrial coffee machine and won't require any cleaning.
4. Durability Of The Commercial Coffee Machines
What's the point of buying a coffee machine if they don't last long? Cafe will require high-pressure handling machines, so DON'T fall for cheap machines.
5. Know Everything About The Service And Repair Costs
This is something which people usually skip on, but is very crucial for your business.
What are the additional expenses you will have to pay apart from the espresso machine costs? For example, a few brands have installation and service charges.
How many free service charges would be provided?
What coffee machine parts would require replacement in the future?
So, be calm and choose a product that not only works your way but also saves your money in the long run.
6. Warranty And Return Policy
You can return the espresso machine within 14 or 30 days of purchase if there's a return policy attached to the product. The return policies change from one brand to another, so read it carefully before paying them. If the coffee machine is within the return period, you will get the full cost of commercial espresso machine (refund) in return.
Warranty is one form of guarantee from the producer that they will replace or repair a component usually for free, for the mentioned time period.
7. Cleaning & Maintenance
Finally, the espresso maker should be easy on cleaning and maintenance. Almost all types of commercial espresso machines come with guided tips on cleaning. This is because a clean and well-maintained machine improves the performance and also extends the life span.
Just a 5 min cleaning of the bean to cup coffee machines can help with retaining the quality and consistency of the espresso shots.
Note: It's recommended to run the clean cycle after the day's use, which will ease out the cleaning and also reduce the downtime.
How was your commercial espresso buying and price dealings? Was it too hectic or easy like breeze? Share us your insights and feedbacks below.