COFFEE IS THE NEW BUSINESS, AND WE LOVE IT – It's not just a cafe owner's thought, but the countless coffee-lovers out there who would do anything for a quality espresso shot. A good commercial espresso machine is what you need to make this possible.
Business is never easy, and it won't run long if the user requirements are not satisfied.
Similarly, for a coffee shop especially dealing with espresso should never go wrong with the PROCESS. Today we shall check out the top commercial espresso machines, and almost everything that revolves around it.
For better reading experience, I have simplified the espresso machine concepts for you. Shall we start?
BUDGET-FRIENDLY CHOICE
DeLonghi Magnifica XS Espresso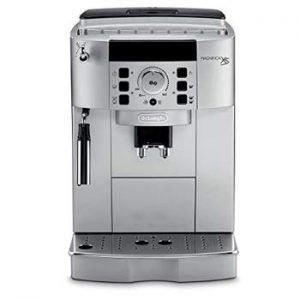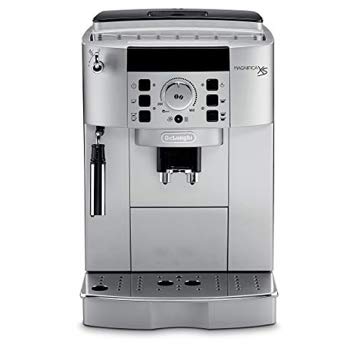 You can now be your own barista with the DeLonghi Magnifica XS! It's a super automatic machine, ECAM22110SB, is compact, beautiful and a feature-packed product. Added burr grinder with 13 adjustable grind settings, and best suitable for continuous brewing. Treat yourself with a finely textured milk using the manual frothier provided.
EDITOR'S TOP PICK OVERALL
La Pavoni BAR-T Commercial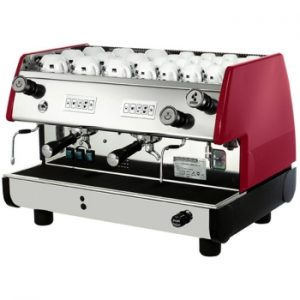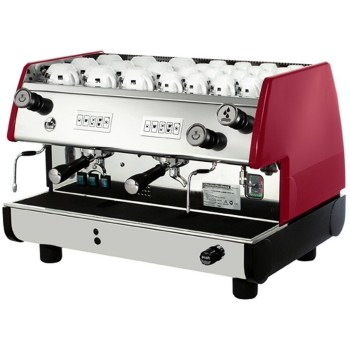 Go electronic with the La Pavoni Bar-T Commercial espresso machine, the best one of all. It comes with a 14L Boiler Capacity, while most the functions are carried out by the digital control pad and microprocessors. Moreover, it has got additional solenoids allowing multiple users to work at the same time. 
BEST PREMIUM CHOICE
Nuova Simonelli Aurelia II Machine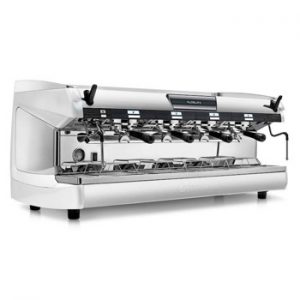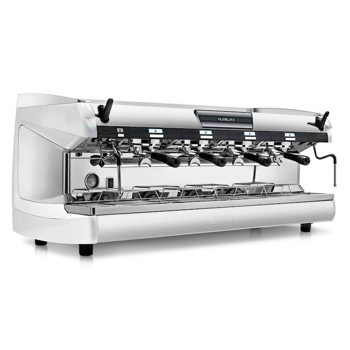 It's the winner of 2012-2014 World Barista Championship and specifically dedicated to all the high-demanding espresso professionals. Known for its durability, and the level of precision they use for the making of espresso. I didn't find any other model that combines the technology & art in the same way as Nuova has done.
Top Picks for Best Commercial Espresso Machines for 2020 – At a Glance
Commercial Espresso Machine [Gearing Up]
Looking at the statistics by the National Coffee Association, there has been a significant rise in the coffee consumption in America. There's nothing wrong in saying – we are living in a caffeinated world.
The number of espresso drinkers has only increased in the last decade. So, is there any reason for this sudden rise in coffee use?
I believe Starbucks and its popularity is – where it all started. Moreover, the coffee shop is a real new business that has hit the market on a large scale. Isn't it? What can we conclude with this? It simply means, that coffee is and always will be high in demand, no matter how much the supply is.
Imagine you want to set up a cafe business for yourself or your friend. What is the first thing you going to do? Make a list of the pre-requisites for the business like the company short and long term goals, budget, manpower, electricity usage, space, and so many.
A cafe without an Espresso would be like a song without a tune. Absurd in all sense. 
This is where commercial espresso coffee machine comes into the picture. The espresso machine for business works in a dedicated style, and are high-end in operation. You will find both lightweight and heavy-duty models under this category, hence you can choose any professional coffee machine that suits well with your needs.
What is a Commercial Espresso Machine
At least one of your coffee-addict friends had this plan of setting up a coffee shop in the future.
If your friend is still hoping for this thing to happen, it's now possible with the best commercial coffee machine. Oh come on, I know it takes a lot of things to start a cafe business. Espresso is one of them.
Now the question is, can all the espresso machine work like a professional coffee maker?
The answer would be – it may or may not be suitable. Coffee shops demand quick results and during the busiest hours the barista machines should run fast and serve high number of customers. 
This is where Commercial Espresso Machines come to your rescue and gets the job done in the best professional way.
Also, one key point to note – it's not how many customers your best professional espresso machine serve in a day, but in fact the number of servings during the peak cafe hours. That will be the perfect way to assess your cafe espresso machine. 
To sum up – commercial espresso machines are one form of operating machines that help with making good quality espresso, taking the time and number of serving into consideration. It turns out to be a mandatory thing for a medium to large scale cafe setup.
Semi-Automatic vs Automatic Machines
The commercial espresso machine has seen some boundless changes in past two to three decades. You won't be adopting the same technology the next year.
This is why you need to know the categories of machine you can choose from for your professional espresso machine. We can classify them into automatic, semi-automatic, super-automatic and manual machines.
There was a time when espresso making involved too much strain, however, the scenario is totally different now. Automation has made the process easy-breezy now. I will quickly list out a brief about each espresso type.
Manual: The basic one inspired by the traditional Italian espresso design. Each step is performed manually and takes more processing time.
Automatic: This type of commercial espresso machine will stop the pouring of the coffee on its own.
Semi-automatic: You will have to shut down the pouring manually, while the delivery is operated by a hydraulic or electric pump.
Super Automatic: All the processing right from grinding, processing, pouring is performed by the commercial espresso coffee machine itself.
Considering all the options, I think so both the automatic and super-automatic barista machines are good to go for large companies. You can assign multiple employees on the same machine, and get fast results.
On the other hand, a semi-automatic commercial grade espresso machine would be the perfect choice for small business or any startup plan.
Best Commercial Espresso Machines Reviews
Commercial products or machines need to be powerful, flexible, durable, and what not.
When you Google 'commercial espresso machines', you will get a farrago of automatic and manual machines. Which one should you opt for? Also, why to go with a certain espresso model?
To dash out your queries, here's the list of my favorite espresso machine for a coffee shop, which will definitely come to your help:
#1. La Pavoni BAR-T 2V-B Commercial 2 Group Espresso Machine
Are you seriously looking into commercial automatic machines? You may give a hard look at the La Pavoni BAR-T espresso model. Though it looks like a normal coffee machine, it can actually serve more than 500 cups of coffee in a day. The chrome and brass plating make the commercial espresso machine durable so that you can just make out the best with your investment.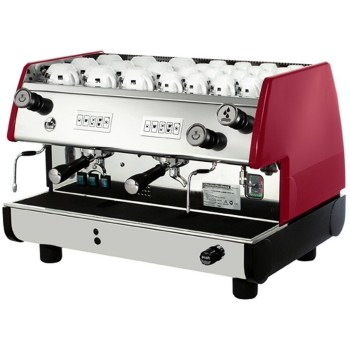 While you brew your coffee, you can prepare a total of 4 cups sizes. Also, the machine has a continuous brewing feature and the stop button setting, that you can use as per the need.
Brand: La Pavoni
Boiler Capacity: 14L
Weight: 129 pounds
Machine Type: Semi-automatic
Material: Solid Brass with Chrome Plating
There are separate solenoids that allow multiple users to run the espresso unit at the same time. I am talking about the 2 group heads provided, which simply makes the commercial espresso machine more functional and durable. It has perfect pressurization and the vertical infusion chamber that allows for single head dispensing.
Copper boiler keeps the water safe from microbes and bacteria. Such a genius thing!
Also, you will find 2 steam wands for the milk foam creation (a mandatory thing for the espresso!). Once you are done using the steam wand, it will leave out some milk inside the wand. But, there's an amazing anti-vacuum valve that helps with preventing the liquids from getting inside the system. Even though, it's a good habit to flush the wand after each use.
For the installation, you can directly connect the industrial espresso machine with the home plumbing. Besides, you will also get the necessary tubes and stainless steel water line for quick setup. Also, you get a water softener along with the espresso machine that needs to be installed for claiming the warranty.
Pros
High boiler capacity
Includes steam wand
Durable
No quick refilling needed
Multiple user support
Works for beginners and pro users
Cons
May need extra cleaning
Costly (however the quality justifies that)
#2. Nuova Simonelli Aurelia Ii Digital 4 Group Espresso Machine
If you are a part of a high production cafe, then you need something that meets the user demands quickly yet efficiently. Nuova Simonelli is one of a kind commercial espresso machine that keeps up with the long line of latte-lovers. With the availability of different models and group head settings, you are sure to get all your espresso needs satisfied.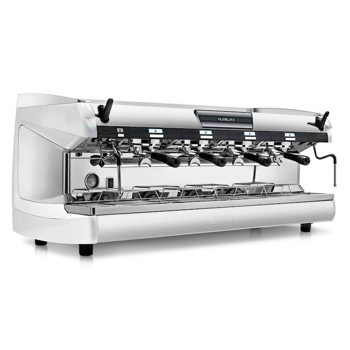 This line of commercial automatic coffee machines works the best for all barista requirements. It covers all the features that are needed for the cafe people to work out their best, and this also makes the job easy.
Brand: Nuova Simonelli
Boiler Capacity: 14L
Weight: 310 pounds
Machine Type: Automatic
Material: Stainless Steel Plating
With the presence of such commercial espresso machine brands, not only the company sales increase but it also boosts the confidence level of the user. This way, the employee understands the skill and you get a coffee that you will be pleased to sell!
You will actually feel like a barista while working on this cafe espresso machine.
The outer design is the first thing that will catch your eyes. Also, this espresso machine commercial has multiple brewing heads allowing more number of the barista to work on the device during the busy hours. Talking about the installation, it's pretty wide in shape so make sure you have enough space for the setup. I am afraid it could work in a small workspace.
In addition, the Nuova team has worked on the ergonomics really well making it easy to handle. Moreover, the back side of the commercial espresso maker has an angled design which makes the coffee leaving the spout clearly visible. This also reduces the risk of coffee burns.
Pros
Sleek in design
Ergonomic shape
Made in Italy
Steam wands present
Versatile and works as per your need
Better temperature check
Cons
Heavy
Takes large space for installation
#3. Breville BES920XL Dual Boiler Espresso Machine
920 is the revised version of the Breville BES900XL model, like for example you can now descale the espresso machine which was apparently not possible with the 900 commercial espresso machine. They even extended the warranty from one to two years with this new espresso machine. Yet the heart of the machine remains the same – yes I am talking about the dual boiler system.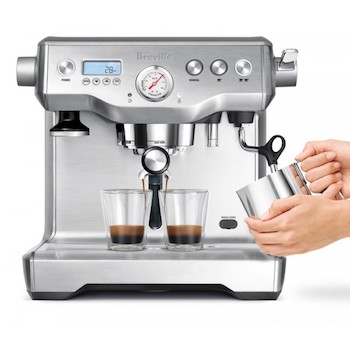 Comparing both the new and the old Breville professional espresso machine, the only visual difference is of the two added screws on the top. Using these screws you can drain the boilers after descaling, and they even come to help during the shipping purpose.
Brand: Breville
Boiler Capacity: 2.5L
Weight: 30 pounds
Machine Type: Semi-automatic
Material: Stainless Steel Boilers combined with Italian Pump
Furthermore, here the brewing temperature is controlled by the PID that keeps a check on the temperature value and adjusts them between 190 to 205 degrees. When PID, heated group heads and the adjustable temperature comes up together you will definitely get a pro experience on tuning the espresso shots.
Special consideration of pressure and temperature for brewing authentic and the best kind of espresso.
Group heads are mainly found on authentic Italian machines. Yet you will find this as an addon thing on this Breville commercial lever espresso machine.
On the front side, you will find a back-lit LCD display that shows the timer. It allows you to keep a better check on the programming and gets you the right extraction. You are advised to use only cold filtered water for the coffee preparation.
Also, it's rare to find dual-boiler machines to have shot volume brewing setting, however Breville BES920XL allows preset for single or double shots. This actually makes it the best commercial espresso machine for coffee shop, in case you have similar needs.
Pros
Precise and accurate temperature control
Steam wand for textured drinks
Lightweight
Flexible shot control
User-friendly
Well-engineered
Large drip tray
Cons
You will expect more quality components for the price
#4. Wilbur Curtis Gemini Twin Coffee Brewer
If you are in the search for reliable and easy coffee machines for business, then I guess this could be your thing. This GEM-12D-10 espresso machine comes with two stainless steel coffee brewers, and many of the brewer activities are digitally controlled.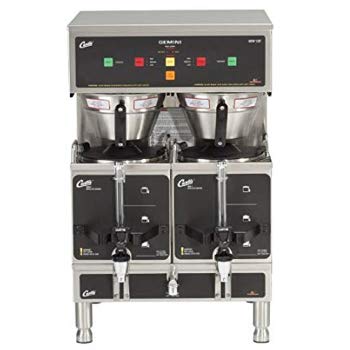 Here, the control is provided on the front and the center portion. Further, they don't require much maintenance compared to the traditional brewing system. Less wiring too! Soft-pulse heating offers low, medium and high heating, as a result, it maintains the coffee temperature gently.
Brand: Wilbur Curtis
Boiler Capacity: 5.2 gallons ~ 20L
Weight: 79 pounds
Machine Type: Automatic
Material: Stainless Steel
Wilbur Curtis features digital brewing controls, so you can now easily control the volume and temperature as per your preference. This way you can have close control over the espresso making as well. Both the issues like overheating and over-extraction are taken care of by this best commercial espresso machine small coffee shop.
The hot water faucet lets you draw hot water for making tea or soups, and also while you are brewing.
For the electrical setting, you need a 220V and produces 6300Watts of power. Before you get the espresso machine started, make sure all the power specifications are taken care of.
You can carry out automatic brewing for 12 to 24 cups, without the need of refilling the brew basket. This commercial cappuccino maker can be set up for a restaurant, food service station, or any hotel.
It covers up almost all the basic qualities that you may need in the espresso machines for business. This Wilbur model also includes dispenser, and is a popular choice among commercial espresso machine for it's quality of keeping the drink HOT and FRESH.
Pros
Automatic brewing for 12 to 24 cups
Insulated walls keeps the coffee warm
Efficient
Easy to use
Durable
Low maintenance
Cons
Prior brewing experience is needed
#5. La Spaziale Mini Vivaldi ii Espresso Machine
Okay, so I will start off with something that not many people know about this espresso commercial machine. La Spaziale is a double boiler espresso, and has an inbuilt water tank for smooth espresso processing. It's packed with the needed features and designed in a way keeping all the coffee aficionados in mind.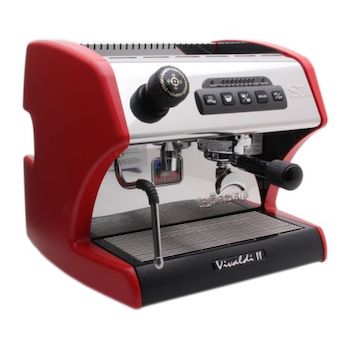 This single group espresso machine has undergone many re-designing, and now it's more powerful and efficient like never before. The programmable pre-infusion setup allows you to make your personalized changes during the pre-infusion time.
Brand: La Spaziale
Boiler Capacity: 2.5L
Weight: 65 pounds
Machine Type: Semi-automatic
Material: Stainless Steel
Well, coming to the control panel this professional cappuccino machine will be pretty easy for the newbies at work. It can be set up in the cafes for training purpose, as it's compact and simple on handling.
The addition of premium features on a small espresso machine professional like this one!
Because of the fine finishing of the settings and control, it is indeed one among the top machines falling in the prosumer class of machines. The design of the boilers is done in a way making it easy for you to boil and steam the drink at the same time. Like, you can prepare lattes and espresso at the same time, a feature which is rarely found in a small commercial espresso machine.
You get two separate boilers that offer a superior quality of temperature control. Vivaldi II has a 2.5-liter steam boiler and 0.45-liter brew boiler. Both the boilers function independently, and you can turn on either one of them or even both as per your needs.
The espresso machine comes with it's own swivelling steam wand on it, and has an insulated arm to protect the wand from overheating. While the exterior of the wand is made of stainless steel, which makes it easy on the cleaning part.
Pros
Programmable Pre-Infusion
Durable
Single/Double cup programming
Brew and steam at the same time
Insulated boiler
Added steam wand
Cons
I didn't find any major issue with the model
#6. Elektra Micro Casa Semiautomatica Commercial Espresso
If uniqueness is your choice, then I could only recall Elektra Micro Casa at this moment. It's not the most expensive one on the list, yet it will surely amaze you with the design and construction. To be frank, I was not sure of this commercial espresso machine, was it just for a show or can it really pull off quality espresso?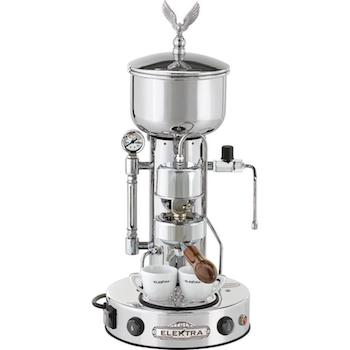 Starting with the appearance, the one that I saw had a chrome-finishing along with the Elektra Eagle placed on the center portion of the dome. Using the pressure gauge you can judge the right suitable pressure reading, and brew perfect espresso from the Micro Casa Semiautomatica commercial espresso coffee maker.
Brand: Elektra
Boiler Capacity: 2L
Weight: 31 pounds
Machine Type: Semi-automatic
Material: Chrome finishing
Elektra brings back the old espresso vibes with the "naked" design, water tank placement over the boiler, exposed piping, and the decorative bell on the top of all the groups. While the exposed parts pose a danger here, as you can burn your hands if not carefully handled. Unlike the latest cappuccino machine commercial, this unit has not covered or insulation as such. Curious children need to be warned about this.
This vintage espresso machine makes legit espresso drinks. It's not just about the looks.
The brass made heat exchange boiler offers excellent temperature stability, which is the most crucial factor for the brewing espresso.
You can use the manual switch for filling up the 2-liter reservoir tank, to get a continuous water flow for brewing. The water level sight will show the water level inside the boiler, anytime you want to know it.
Machine controls are easy; with one switch for power, one for brewing and another for refilling the boiler. For the commercial espresso machine installation, the only thing you need to take care of is the steam wand. Rest all the parts arrive in the assembled form.
Pros
Vintage look
Temperature stability
Easy controls
2 years parts warranty
Durable parts
Cons
Heated metal parts remain exposed
#7. DeLonghi Magnifica XS Espresso Machine
DeLonghi is a fully automatic machine that can make a cup of coffee with a single button press. Also, it's versatile in quality and can make espresso, cappuccino and even the standard coffee drink. This compact commercial espresso machine offers 13 adjustable settings on the grinder so that you can brew out maximum freshness!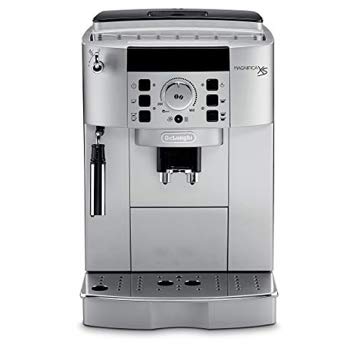 There's a second chamber where you can pre-ground the coffee as per your choice of regular, decaf, or specialty coffee. In addition, you also get to use the manual Cappuccino setup that mixes both the milk and steam for generating the thickest and long lasting foam for your cappuccino drink.
Brand: DeLonghi
Boiler Capacity: 1.8L
Weight: 19.84 pounds
Machine Type: Automatic
Material: Stainless Steel-lined Aluminium
This fully automatic commercial espresso machine comes with a reheat function and shuts down on its own after 4 hours of inactivity. It's compact in shape and makes a perfect fit for small kitchens. The control panel on the DeLonghi Automatic Machine allows you to adjust the coffee strength and also the cup size.
You can use either ground or whole coffee beans, DeLonghi works on both!
The low-level conical grinder on this commercial automatic espresso machine lets you adjust the fineness of the grind. Also to add, all the machine components are removable for easy cleaning and maintenance.
Here, the manual frothier can mix the steam and milk in the best way for creating creamy, rich froth. Each cup of coffee is brewed in their respective best temperature – and DeLonghi takes care of it for you. The Rapid Cappuccino system maintains the optimal temperature so that you can brew cup after cup instantly.
The spouts are adjustable, and so you may use an espresso cup or even a large cup for brewing.
Pros
Energy saver
Water filtration added
Coffee strength and cup size selection
Consistent brewing
Easy on cleaning
Cons
Coffee grinder don't last long
#8. Jura 13623 Giga 5 Automatic Coffee Machine
We love having extras isn't it? Extra sleeping hours, extra cheese! However extra working hours could be exhausting, but what if I say extra coffee? Jura Giga 5 Automatic offers you two drinks at a time, and this commercial super automatic espresso machine comes in two different color shades.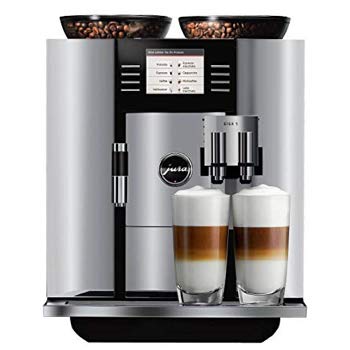 With the two flat ceramic disc grinders and hoppers, you can simply double the fun. What I actually mean here is, you can select a particular grinder and work on two different coffee beans simultaneously.
Brand: Jura
Boiler Capacity: 2.6L
Weight: 40 pounds
Machine Type: Automatic
Material: Aluminium or the Black Finish
In addition to the double processing, you also get a remarkable set of brewing settings (like never heard or seen before) on this commercial espresso machine. These settings include three water temperature options, water volume (0.8 to 8.1 ounces), milk volume, 5 dosage settings (5 – 16 grams), milk foam (max. 120 seconds), and hot water (0.8 to 15 ounces)!
Brew up two different drinks at the same time!
If by any chance you forgot to shut down the commercial espresso machines, the Jura 13623 will do that for you. It has 15 minutes to 15 hours window. With the two hoppers, you could now work on two types of beans like one could be the decaf and the other one could be the original coffee.
You can now brew 12 specialty coffee creations using the Rotary Switch added, and be a pro barista!
For removing the bean hoppers, firstly read the instructions provided with the machine. You need to carefully open the service cover on the back by gently pressing the Jura logo on the back. After that, push the red sliding catch back, and pull the blue locking device on the outwards. And, it's done!
Pros
Brew two drinks together
Consistent grinding
Make specialty coffee in no time
Power of two grinders
Saves energy with the auto shut-off feature
Buyer's Guide
Now that you know which are the best professional espresso machines, do you think you could make out the best choice for your business?
Like how much espresso volume your machine provides? Which type of commercial espresso maker you should opt for? What about the budget?
All these details are equally important to take note, just like the brand quality. But no worries will make it easy for you.
How to Choose the Best Commercial Espresso Machine?
Following are the key factors to consider while you are on the look for a quality commercial grade espresso machine –
Your Business Volume
The first thing to be sure of; your business needs and how are you planning to grow it? For example, you can select 2, 3 or 4 group-heads depending on the sales and your business size. More the group-heads, more the number of employees on the same commercial espresso machine. If yours a small cafe business, then a smaller machine with 2 group-heads will be sufficient.
Type of the Espresso Machine
Now, you need to choose the best suitable type among the espresso machine types (we discussed at the start). Semi-automatic one is recommended for small business while you can choose a super-automatic or automatic setup for medium to large coffee ventures.
Budget
Each and every investment that you do for your business relies on this very concept. Budget. I am pretty sure you are sort of clear on how this parameter works. Those with a low budget, start with a cheap commercial espresso machine and just break the ice!
Size of the Boiler
Well, it's the size of the boiler that will determine how many coffee cups you would get in the first pull. If it's a small cafe serving about 6 ounces of single cappuccino shots, then you don't have to much focus on the performance thing. Whereas for a big cafe or hotel, the output quality will have a higher preference.
This way, after you are sure about the kind of your business – take a note of the average output needed and check if the size of the boiler would be enough for the job or not.
Handling
Is there any point of buying a restaurant espresso machine if your team can't use it? Imagine how simple it would be for you to teach your staff on how to use a commercial espresso machine, therefore you need to carefully go through the handling of the coffee model before the purchase.
Furthermore, check whether the barista machines are easy on cleaning and how difficult is to handle the steam and hot water valves. Almost all the machine related works have to be closely examined.
The Right Size
How many operators are going to be employed on a single espresso commercial machine?
Where are you planning to set the coffee machine? This is because even the counter space is important, it's value has a special place in the hearts of the customers. Also, bigger machines add to the professional grade and will have a positive impact on the business too.
FAQs
Here are the answers to some of the frequently asked questions about Commercial Espresso Machines.
What is the best espresso machine for a coffee shop?
It depends on factors like the business volume, the number of visitors per day, and even the number of people working in the cafe.
To make it easier for you – the best espresso unit that goes perfectly for coffee shops would be a simple, less-featured model. If the sales are high, you will have to provide results quickly and efficiently. In this case, an easy to go machine would be a better choice.
For a startup or small cafe opening, a semi-automatic espresso machine would be a finer choice.
How long does a commercial espresso machine last?
An average life span of a commercial espresso is found to be 1 to 15 years. It depends a lot on how you maintain the machine after use.
What machine does Starbucks use?
It's been only a few years now after Starbucks shifted to the automatic coffee brewing. Thermoplan, the Swiss Quality Coffee equipment is being used by the Starbucks people since 1999. You will find this coffee machine brand running in almost all the Starbucks branches across the world.
How often should I clean the used commercial espresso machine? 
Although it is a good practice to clean the coffee stains and wipe them off after each use. If you don't have that kind of time, you can keep a check and clean the machine after brewing 200 cups of coffee.
THE ENDNOTE
Guess you had an espresso over-dose today! Hope you had a good time reading the commercial espresso machine reviews.
If you have any sort of coffee questions troubling you, get in touch asap! We love reading your comments and queries. CoffeeMakered team is committed to making coffee experiences more memorable and sweet. Stay happy, keep brewing!