This article will describe how a coffee bean grinder helps to make the perfect tasting coffee every day.
Yes, if you do not consume the coffee grounds within a couple of days, it loses its natural flavor and taste.
Having your own simple and efficient grinder is an opportunity for you to grind the coffee beans fresh.
Go through this article to know how the freshly ground coffee tastes better than others.
Our #1 Favorite Coffee Bean Grinder: Capresso Infinity
This product is the winner of our top ten coffee bean grinder ratings. We have evaluated each coffee grinder on various factors i.e. grind quality and uniformity, motor power, grinding tools, warranty, customer's feedback, complaints, cost.
It has performed better than every other product on the list. The best quality of this coffee grinder is that it has a metallic body which seems like a premium touch. It has sixteen grind adjustments which are enough for the beginners and even the restaurants.
Infinity has a robust body capable of running many years. Although it has a robust body, it gets fit in most compact kitchen spaces as well. Therefore, it enjoys the winner position on our list.
Know the Coffee Bean Grinder
In this section, we present you some of the topics which will be helpful for you to know a coffee grinder better.
Benefits of Coffee Bean Grinder
Owning a coffee grinder benefits you a lot either directly or indirectly.
Firstly, let us agree that on the point that grinding the coffee beans fresh have more benefits than a grind we use after some days. An article on How to store coffee says, coffee beans begin to lose its essence, taste, and freshness after 1 to 2 weeks of roasting.
The prerequisites of having a coffee bean grinder are that you will need roasted coffee beans and a mug for pouring your coffee. Yes, it is as simple as that. In return, you get many benefits as we say of fresh coffee with its actual taste and health benefits.
To summarise all the benefits of coffee grinder machines in few points then it will be:
The freshness of grounds.
Rich aroma and taste of coffee.
More health benefits.
More adrenaline.
Grinding your own coffee gives a sense of accomplishment.
Coffee Bean Grinder proves to be best for the coffee fanatics who love to make their own coffee.
Coffee Storage
In addition to it, one needs to store coffee beans in a dark place at room temperature. Direct or indirect heat shall not hinder that coffee bean storage place.
Moreover, coffee bags or packages are not fit for coffee bean storage. You can use airtight opaque coffee bean containers instead which isolates coffee beans from external light and air.
Therefore, coffee bean grinders will benefit the consumer with better tasting coffee and good a coffee experience.
Types of Coffee Bean Grinder
Purpose of every grinder is the same i.e. grinding the roasted coffee beans. But there are major two categories on which we can divide them. First is a manual grinder and second is an automatic grinder. These categories have a further classification of grinders based on their abrasive or crushing material.
Automatic grinders have both blade and burr material for crushing the coffee. While manual has just burr for grinding. Blade in grinders requires higher rotation per minute which is impossible for a human to perform.
Manual Grinders
Manual grinders require human effort to grind the coffee beans. Its mechanism allows a person to crush the coffee seeds in between the crushing medium i.e. burr.
This method is more preferable than the blade grinders because it can grind finer grounds. However, it requires more time to grind the beans than the automatic grinders.
–>Burr
Burr is the metal or ceramic useful for crushing the coffee by its rough finish or rough edges. Coffee beans become crisp or brittle after roasting which makes its grinding possible.
Manual burr coffee bean grinder is so efficient to grind the beans into fine grounds that there is unbelievable uniformity of ground size. People prefer this type of grinder more than the automatic ones for its consistent fine grounds.
There is one downside to manual grinders, it requires more time to grind the beans enough to make one mug. Roughly it takes a minute or two for crushing coffee seeds enough to make a mug.
There are various types of burr available which can grind fine to coarse grounds depending on its profile. A burr with a finer finish will produce fine grounds and the coarser one will grind coarse grounds. Finer grounds are more suitable for the espresso while coarse grounds are more suitable for French press.
Tool profile i.e. burr profile determines the size of the grounds. Burr which people prominently use has conical and flat disc profile.
–>Conical Burr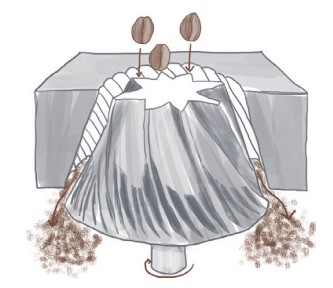 This is the best type of burr which you can use to fine grind the large beans. There is one conical burr rotating inside a stationary burr, there is some cavity in between them. Coffee beans enter this cavity and the burr crushes the bean into fine powder form.
Profile of the burr tool has a larger gap between successive edges at the top which gradually decreases at the bottom. This crushes the beans with a larger body at the top and smaller beans at the bottom which decreases the human effort for rotating the burr.
–>Disc Burr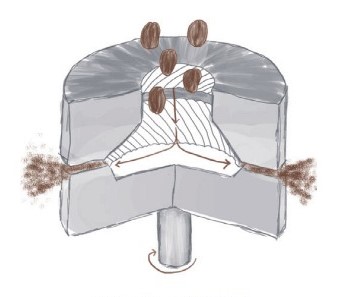 Burr having flat crushing surface is the disc burr. This tool is suitable for the smaller coffee seeds. There is a small cavity between the disc and surrounding crushing layer which creates finer grind than a conical burr. This burr is even useful for the larger coffee beans. But it will take more time for grinding and more effort for rotating the burr.
–>Precautions
Points to keep in mind while operating the manual coffee bean grinder.
1. Do not grind coffee with different flavors.
Flavors seem to deposit on the burr layer and becomes difficult to wash. This can adulterate the normal coffee if you grind in the same grinder.
2. Burr is difficult to wash
The crushing tool is difficult to wash thoroughly i.e. tough stains on its minute inner edges. However, the burr is removable which eases its washing; also it makes rinsing of grinder possible.
Automatic Grinders
Grinding your own coffee will not be fun when you have hectic schedule and list of errands. Therefore, we require automatic grinder which makes grinding the coffee hassle-free. An automatic grinder is similar to that of the manual grinders but the only thing making it different from the manual is an electric motor.
The electric motor in automatic grinders will assist in rotating the burr or blade which are the coffee crushing tools. This grinder can be either a blade or burr type automatic grinder.
The blade is the attachment available in auto grinder because it has higher rpm. The manual grinder cannot work with a blade.
This will not only make the grinding process easy for you but also it won't require longer time. The high rotational speed of the motor can easily crush more coffee beans at the same time.
–>Burr Coffee Grinder
The tool remains the same for both types of grinders i.e. automatic and manual. Burr serves the same purpose in these grinders. As the above section describes, electric motor assistance is the only difference between automatic and manual grinders.
Moreover, the burr in the automatic grinders can have lighter weight and more clearance between the rotating burr and surrounding stationary burr.
We can control the grind size we get from burr grinder i.e. fine or corse. We can adjust a clearance of burr by clicking a button or rotating a knob most of the grinders have.
–>Blade Coffee Bean Grinder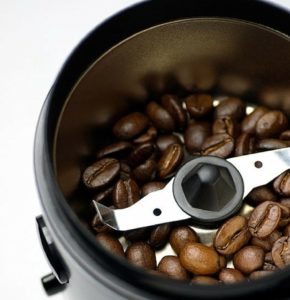 Sharp blades crush the beans while rotating at higher speeds. This gives more cutting impacts than actually crushing like we observe in burr type grinders. Therefore, we get uneven grounds with any speed settings we apply. This is only the downside automatic grinders have. However, many advance blade design avoids uneven grind size.
In this type of grinder tool, we can adjust the grind size from fine to coarse by changing the blade tool. Different design of blades can grind the coffee beans into different size of grind. Even the rotational speed can produce different size of grind and uniformity of the grinds.
–>Precautions
Points to keep in mind while operating an automatic coffee grinder.
1. Don't grind coffee with different flavors.
Flavors seem to deposit on the burr layer and becomes difficult to wash. This can adulterate the normal coffee if you grind in the same grinder.
2. Grind in small amounts
An electric motor of the grinder works at higher speeds which increases its temperature within a couple of minutes. Thus, it is advisable to grind the small amounts of coffee daily to avoid longer functioning of a motor at once.
3. Wash grinding tool regularly
Coffee deposits on the tool and grinder bowl, it creates tough stains if we leave it unwashed. The unwashed coffee becomes contaminant for the next batch of grounds. This starts becoming worse.
4. In case of battery, don't charge for too long
Grinders which operate on battery rather than the live power supply needs charging from time to time. In this case, frequently charging or overcharging the battery can decrease the working life of a battery.
Best Coffee Bean Grinder Reviews
Here are the comprehensive reviews of our top products.
#1. Capresso Infinity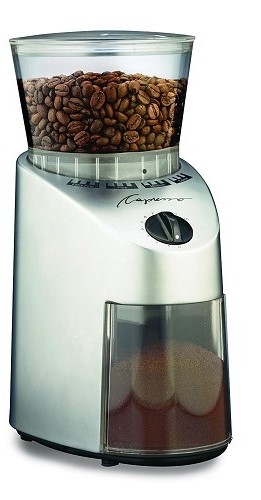 The makers of Capresso Infinity have taken care of all the needs of coffee consumers. This coffee bean grinder is perfect for home, offices, shops, restaurants. Because it can efficiently grind a big lot of coffee without any damage to the motor.
It has a hopper which accommodates a huge coffee lot. With all these qualities, the most important one gets along i.e. silent motor. Yes, its motor is so silent that a person sitting in the next room can't even notice the noise.
The manufacturer of this product is particular about the aesthetics and quality. They have used metal body which makes this grinder premium in terms of appearance.
The metal body has many benefits over the plastic ones. It is easily washable, long lasting, better appearance, sturdy. Coming on to the tool, it is stainless steel conical burr which has a nice shine and solid body.
It can last for a long time, you will hardly require to replace it in a year. There is a 100 W motor capable of rotating at 420 rpm. This is quite less speed but it has a plus point to it i.e. it will have lower heat generation in the grinding chamber. At last, there is 16 grind setting which grinds from the coarse to the finest grind size.
Grinding Tool: Burr – Conical
Motor Power: 100 Watt
Motor Speed: 420 rpm
Adjustable(No. Of Settings): 16
Summary
Looking at the build quality and premium body tone, this product appears to the most premium coffee bean grinder on the list. This coffee bean grinder is a sheer example of minimalistic content and effective performance. However, it has a huge price-tag too.
This grinder can effectively work in the houses where only one or two coffee consumers using the coffee bean grinder machine. Also, it is suitable for the shops and restaurants where there is heavy usage. You will love the limited grind settings it has i.e. 16 as it gives a consistent and uniform grind profile to the grounds. These grounds can be useful for all types of brewing processes.
Don't purchase this bean grinder if you are just a beginner and don't love the coffee yet. There is a higher possibility that you will not enjoy the hectic coffee making process. Because when you use a grinder, you have to regularly purchase the roasted beans and brew your own coffee after grinding manually.
#2. Baratza 586 Virtuoso Coffee Grinder


Virtuoso is the best grinder of Baratza according to our evaluation. This is the heavy duty grinder which many of the baristas use in small and medium size cafe and restaurants.
It has an even-toned body which is good for any kitchen decor. This coffee grinder blends in the surroundings. It is also small in size which makes it easy to fit in any location.
This coffee bean grinder machine has a conical burr that produces less noise and effective work. However, it gets tricky to wash the grinding chamber but with little care, everything seems easy. It has 40 grind settings which allow the user to grind a perfect grounds according to requirements.
You can get the grinds from coarser size to the finest size. This gives you maximum freedom of choosing any grind size suitable for different brewing methods.
Grinding Tool: Burr – Conical
Motor Power: Undisclosed
Motor Speed: 450 rpm
Adjustable(No. Of Settings): 40
Summary
This product is suitable for grinding the huge lots of coffee. Most of the shops use this type of grinder which makes their work easy. It has a heavy-duty motor that can grind for a longer period. If you have a certain task to perform then this is the product for you.
Or also, if you want to use this grinder for homely coffee grinding purpose then it will not disappoint you. But only if you can afford the heavy price of this coffee grinder, you will feel satisfied with the results. Otherwise, even after getting the perfect grind every time you will complain about it's worth.
Heavy duty coffee bean grinder machines require a break after successive grinding, but this one can run smoothly for many turns.
#3. KitchenAid KCG0702OB Burr Coffee Grinder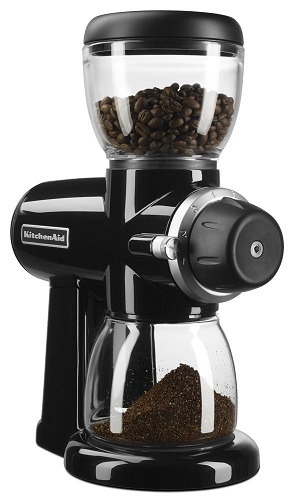 KitchenAid grinder is more appealing than any other on the list. It has the best design which allows you to attach the hopper and jar with utmost ease. This Best Burr Coffee Grinder has a rotating lock mechanism by which you can easily attach the hopper and grind jar.
Its grinding tool is of the burr type and also it is very sturdy. It can have a longer working life than of the other grinders. This coffee bean grinder can run at 450 rpm which is perfect for the silent functioning of the coffee grinder.
Furthermore, it has fifteen grind settings that allow the user to grind the variety of grind size according to his/her will. The grind setting seems to be limited but trusts us, you will not be able to use even these settings at its best. Some grind alteration mildly changes the taste of coffee and hardly a common coffee person recognizes it.
Grinding Tool: Burr – conical
Motor Power: Undisclosed
Motor Speed: 450 rpm
Adjustable(No. Of Settings): 15
Summary
This coffee grinder has the best design than any other grinder on the list. It will fit in any part of the kitchen counter. Also, it is easy to wash and rinse. This will suit you if are grind the coffee few times a week. This grinder can get warm during working but it is perfectly fine.
The grinder has a strong and sturdy body which can work a longer period than the thin plastic materials.
This costs a lot which is not worth when you are looking for an affordable home appliance. This bean grinder has some advantages over the others such as uniform grind size and longer life. However, choosing this coffee bean grinder will cost you some fortune.
#4. Bodum Bistro Burr Grinder Electronic Coffee Grinder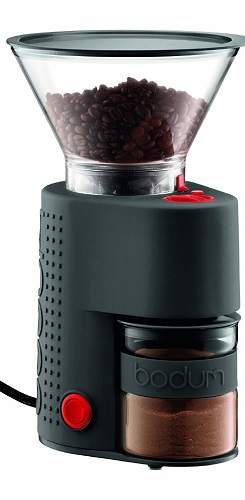 Bistro is the grinder with coolest appearance and stance. Bodum has many vibrant colors from which you can choose the perfect one. This coffee bean grinder is more compact than most of the grinder on the list. It can look good even while being on the dining table similar to a toaster. It has the superior build quality and reliable uniformity of the grinds.
This grinder has a conical burr which does not produce high noise and easily crushes the larger beans. There are 14 grind size settings which allow the operator to grind according to his requirement. Bodum has a powerful 160 Watt motor which can grind the beans effectively and uniformly.
Grinding Tool: Burr – Conical
Motor Power: 160 Watt
Motor Speed: Undisclosed
Adjustable(No. Of Settings): 14
Summary
Bodum is a good grinder which you can buy at the reasonable price and still get most of the quality benefits similar to that of the expensive grinders. This coffee grinder will allow you to grind the beans with 14 grind settings which are enough for a beginner.
Some users complained about the spare parts not being replaceable leaves them with only option to trash the whole coffee bean grinder. Thus in the longer term, the machine might be good but some faulty spares will force you to trash the coffee grinder.
Apart from that, the grinder works efficiently and consistently.
#5. Breville BCG820BSSXL Pro – Coffee Bean Grinder


Breville has provided maximum features for grinding the coffee than any other product. This coffee grinder can work at the time you feed, 60 different grind size and it has a precise timer. The grinder is of stainless steel which makes it more appealing and stronger.
This coffee bean grinder has conical burr which works efficiently without producing loud noises. It has the most powerful motor running the grinding tools. Makers do not mention its working speed as it becomes irrelevant when there is a powerful motor like this. There are 60 grind settings which give the best variety of ground suitable to every brewing method.
Grinding Tool: Burr – Conical
Motor Power: 165 Watt
Motor Speed: Undisclosed
Adjustable(No. Of Settings): 60
Summary
The apparent grinder is packed with the best of the features any grinder could possibly have. If you are a coffee fanatic and want the grind size to be precise then this product is for you. This coffee bean grinder can be techy for the beginners. They will neither get the importance different grind size nor they will notice the taste difference until the size of grind is majorly altered.
There is a precise timer which has an increment of 0.2 seconds by which you can have a perfect dose of grinds for a mug. All you need to do is repeat making coffee until you recognize the perfect grinding time that makes the coffee up to your expectations.
The grinder has a huge price label, but of course looking at the quality and grind uniformity it seems worth.
#6. Hario Ceramic Coffee Mill Skerton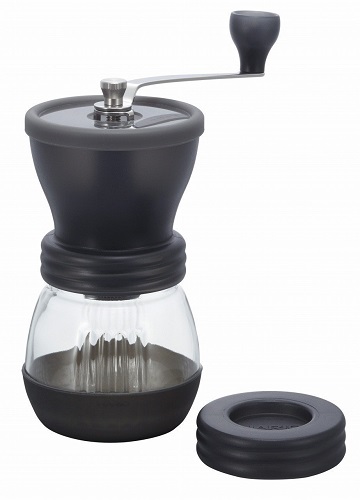 This one is the best of two manual grinders on the list, the other one holds the eighth rank. The apparent coffee bean grinder consists of the ceramic conical burr. Its tool is more efficient than the metallic ones.
The smooth ceramic finish does not hammer the beans and swiftly crushes them instead. Therefore, the grind quality is very fine and consistent. Though this tool can grind the beans coarse and uniform.
Apart from the quality of grind and advantages of ceramic, the grinder looks premium and classic. You can take this along while traveling and also you can use this at your home. It has has a simple operation and reliable structure.
It is a manual grinder but it can outperform the automatic ones in terms of quality and consistency. The only downside to this coffee grinder is that it is slow. The coffee bean grinder takes a bit to grind all the coffee stock you need for a mug or two.
Grinding Tool: Burr – Conical
Motor Power: NA
Motor Speed: NA
Adjustable(No. Of Settings): Yes
Summary
If you love making coffee no matter if you have to put some efforts into it, then you will love this product. It is classic, premium, reliable, and compact; all that you may find attractive in any grinder. It has all the qualities of a good grinder.
This coffee bean grinder will grind the finest ground consistently which most of the expensive coffee grinders fail. Skerton will satisfy your requirement of the perfect cup o Joe.
This grinding tool takes time to grind the perfect grounds, you will need patience for that. Avoid this grinder if you need your grinds just within a fraction of seconds because this coffee grinder will take up to 2 to 3 minutes to grind beans enough a mug.
#7. Baratza Encore Conical Burr Coffee Grinder


Many customers love the Encore for its robust design and evenly toned body. Baratza has made huge changer in their gear line. Apparent gears are made up of 15% of glass in parent thermoplastic. This makes the grinding process silent and smooth. Prior to this design, makers used metal gears which have a tendency to make hammering noise.
Adding to the above qualities, Encore has conical burr gear which again is the most silent tool amongst all the other tools. Makers have strategically made the design compatible with various attachments. It allows the user to use any attachment that suits him/her better without any hassle.
Grinding Tool: Burr – Conical
Motor Power: Undisclosed
Motor Speed: 450 rpm
Adjustable(No. Of Settings): 40
Summary
Encore is suitable for the people who try different coffee grinds every week. Because this coffee grinder has 40 grind settings. A user can choose the size that suits him/her the best.
You will love the product if you crave for differently tasting coffees every now and then. Well, it depends on you how good your brewing methods is which will enhance your coffee experience for each ground size you make.
Some customers complained about this product to be inconsistent in grinding the fine size.
#8. Porlex Jp-30 Coffee Bean Grinder Stainless Steel Body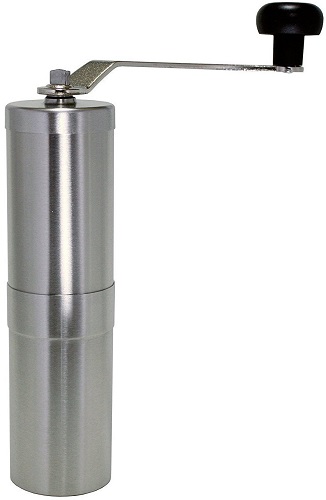 Porlex is the last manual grinder on the list. In addition to that, this grinder is the only product in the list which you can carry with you while traveling or at work. It fits in almost any compartment of your laptop bag. It looks similar to that of a metallic flask. Also, it removable handle is made of lightweight sturdy material.
The apparent grinder has a conical grinding tool where you will not need to put much effort. It has a smooth operation and simple working. This coffee bean grinder is detachable and that makes it easy to wash and clean a coffee grinder.
It has the grind setting knob at the center of two halves. You can rotate the knob for optimum desirable grind size.
Grinding Tool: Burr – Conical
Motor Power: NA
Motor Speed: NA
Adjustable(No. Of Settings): Yes
Summary
This product suits every coffee consumer who wants to grind his grounds on his own. It has various grinds size settings. That allows the user to alter the grind size up to fifteen different levels.
Although the grinder can grind consistently there is one demerit of this grinder. This coffee grinder has a thin body which can get damaged while traveling. You will need to handle this coffee bean grinder with utmost care. Apart from that, this bean grinder has all the benefits you will like.
Porlex costs a bit higher than the other manual grinder on the list, this makes it less attractive than the other one.
#9. Rancilio HSD-ROC-SD Rocky Espresso Coffee Grinder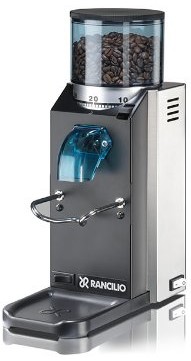 Rancilio is a bit different than the other product on the list. It has a disc burr which the other coffee bean grinders do not have. A disc is better than the conical burr when it comes to finer grinds.
However, the disc burr tool can make more noise than the conical while grinding. Because disc grinder grinds the beans by scratching the surface and then the core. On the other hand, conical burr instantly crushes the beans.
This product has the most powerful motor i.e. 166 Watt. Also, its speed is astonishingly faster than all the other coffee grinders on the list. It is because disc burrs require more speed to grind the beans consistently.
Grinding Tool: Burr – Disc
Motor Power: 166 Watt
Motor Speed: 1725 rpm
Adjustable(No. Of Settings): Infinite
Summary
This machine has a unique quality that it can grind the finest grounds in less time. It does not require rest time during consistently use.
Thus, if you have a shop or restaurant you will love this product. It would easily grind a huge coffee beans lot within no time.
Coffee grinder seldom gets warm or extremely hot, only during malfunctioning.
You will love the product for its easy and fast operation. The grinder has a longer working life than the conical burr grinders.
However, its cleaning can become a bit difficult. You will use a brush to clean the chamber and remove the tool for washing.
#10. Gaggia 8002 MDF Burr Grinder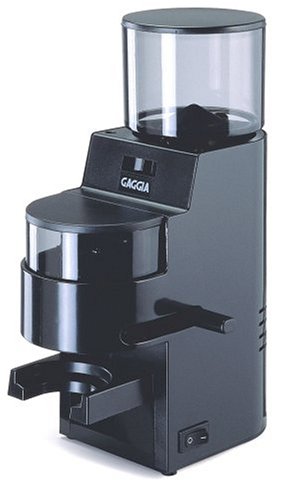 The apparent grinder makes into our list because of its reliable fast grinding process. It does not take much time to grind beans enough for a couple of mugs. It has a 120 Watt motor which is fairly more powerful than most of the grinders on the list. Though it can produce some noise as it can grind at higher speeds but it surprisingly silent.
It has a burr tool made of tempered steel which lasts longer than the normal steel burrs. Also, it has 34 grind settings ranging from coarse to grind levels.
The best thing this coffee grinder has is a doser attachment. It will store the grounds and serve precise doses when a user presses its button or pulls the lever. It makes this machine more fun to operate as well as it eases the everyday measurement of beans for a mug.
The machine has a good appearance and slick body which suits every kitchen decor.
Grinding Tool: Burr
Motor Power: 120 Watt
Motor Speed: Undisclosed
Adjustable(No. Of Settings): 34
Summary
Gaggia is a renown brand for coffee bean grinder machines, it has an unbelievable reputation for its coffee bean grinder too.
This machine seems to be expensive looking into its features and functions. However, its appearance is all worth to pay for. It has a tinted hopper and doser which has a decent appearance. Also, the body color, it suits the countertop if it has a dark toned theme.
In contrast to the good appearance, it does really go well with its plastic body. It is a delicate trait of the coffee bean grinder which you might not like.
This coffee bean grinder is for the user who can handle it nicely and softly. A rugged handler cannot do good to this coffee grinder.
Looking for a Coffee Grinder for French Press?
Buyer's Guide
Here is a comprehensive Guide on how to choose the perfect coffee bean grinder.
Types of Coffee Bean Grinds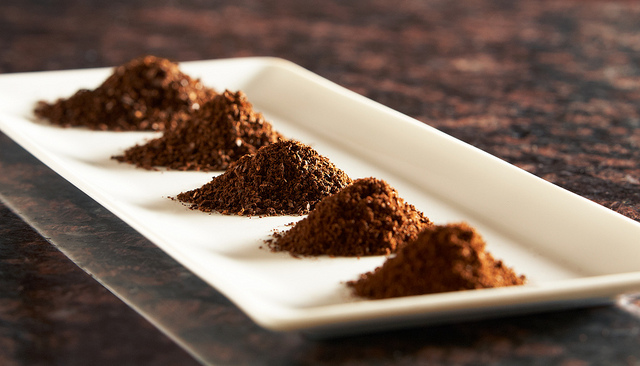 Here are the types of Coffee Bean Grinds explained in details.
Grind Level/Grind Chart
Grind size determines the taste of your coffee after brewing. Because finer the grinds more it will have the surface area. Finer grounds makes the brewing process easy and effective. Coarse grounds will have less surface area than the finer grounds which makes the brewing a bit difficult.
To understand the need for various grind sizes, we first need to know about the concept extraction. Extraction is the procedure taking place during brewing, it dissolves the grounds in the water. In addition to that, there are two different terms which describe undesirable extraction i.e. under extraction and over-extraction.
Under-extraction – Grounds do not mix the water completely. This can leave the drink tasting sour. This phenomenon happens with the coarse ground because it cannot break completely down into the water during brewing. There is one escape from sour coffee i.e. make finer grind for proper extraction.
Over-extraction – Grounds dissolve in the water more than the requirement. This will result in bitter taste of the coffee. This phenomenon happens with the fine grind size because the grounds dissolve and leave its bitterness easily into the water. You can go for the coarser grounds to decrease the bitter tasting coffee.
Improper-extraction – There is no term as such. We intend to explain the third phenomenon of undesirable extraction by this term. When you use the nonuniform grind during brewing, some of the coarse grounds under-extract and the fine grounds over-extract. This makes the coffee bitter-sour(terrible of all three). This grind usually is the result of blade grinders. Blade grinders prove to be not worthy of grinding the coffee.
It is not necessary that only a specific grind size is the best for all the brewing methods. Many brewing methods have different size of grind requirements. We have prepared the types of grind sizes suitable for different brewing methods.
Extremely Fine
Starting with the finest grain size of the coffee grounds. Once you hold this coffee in hand and close the fist, it will make a coffee ball (like clay) out of the grounds. Fine grains of coffee grounds will stick around and will make an airtight structure.
The suitable brewing method for this ground level is the Turkish coffee. This will be dark black in color and bitter in taste.
Fine
Fine grind size has some larger grain size than the extremely fine size coffee. When you hold the grounds then tightly close your fist and open, the coffee ball shall break apart starting with cracks. You will need a good conical or flat burr grinder to have this grind size.
The preferable brewing method for this ground is espresso and aeropress.
Medium Fine
This is the last fine size of the grounds possible, after which you will observe the granular structure of the grounds.
The preferable method of brewing this size of grind is pour-over, aeropress, and siphon.
Medium
The medium ground is the perfect grind size which makes the coffee experience a balance of both bitter and sweet. You can do this in a conical or the flat burr grinders.
The suitable brewing method for this grind size is pour-over and drip. It gets ready in no time, the time you pour the water, instantly the mugs starts to fill.
Medium Coarse
This grind has a size similar to that of the earthy mud on the ground, a coarse type of texture. This size of grind is more popular than the below two we will describe.
The preferable method for brewing this ground will be chemex, cafe solo and clever dripper. All of these take up to 2-3 minutes of time to brew.
Coarse
Coarse grind size is quite smaller than the extremely coarse grounds but they are similar to that of kosher salt. You can grind this in a conical burr grinder with a coarse setting.
The preferable brewing methods for this size if percolator, French press, cupping. All these methods will take about up to five minutes.
Granular Coarse
The size of this coffee is fairly large, it seems like huge dust granules. You can prepare this with a burr type grinder with an extreme coarse setting.
The preferable method of brewing this coffee is cold brew which requires about 12 hours of brewing time.
The final word from this section is, choose the right grind size fit for the brewing method you prefer.
Coffee Bean Type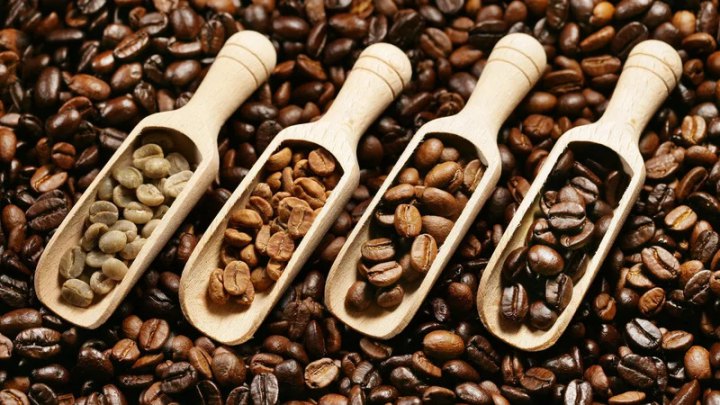 Many coffee bean grinder machines have a specific hopper size which cannot properly grind the larger beans. Or the grind size set to coarse will abruptly grind the smaller coffee beans. Thus, it is crucial to choose the perfect grinder which is perfect for the coffee beans you like.
Apart from the size, we can focus on the type of coffee seeds and make a blend. Coffee tastes delicious when you mix the different coffee species. We can make a blend of different coffees while grinding. You can blend your preferable coffees while grinding.
All you need to do is purchase all the types of coffees you want to blend. Then put all those roasted coffees into the hopper of the grinder. It will grind the coffee beans creating a uniform heterogeneous mixture of the blend.
Roasting a different coffee species can be more advantageous than mixing them while grinding. Because roasting enhances the aroma and taste of coffee, it also releases the coffee oil on the surface of beans.
Roasters roast a blend of coffees but there is a limitation to it. They only prepare the roast blend which most of the consumers buy. There is a chance that you will not like the blend your roaster prepares. In such circumstances, you can mix different roasted coffees during grinding.
Hygiene Care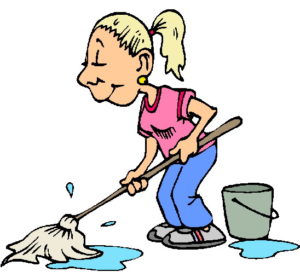 Generally, we don't regularly wash the coffee bean grinder. As we only use it a grinding the coffee and nothing else, does it make the grinder free from contamination? Obviously no, you also know it has foreign particles which will contaminate the ground. Therefore, it is advisable to wash the grinder fortnightly or after 20 days.
Washing the hopper
Hopper is the vessel in which we store the roasted beans. The hopper fills up the grinder according to the input of the user.
To wash the hopper, you first need to switch off the machine if it is automatic.
Remove the hopper, it is the first removable attachment while cleaning the grinder.
Clean it with a dry soft cloth, don't use paper wipes(leaves the paper shreds).
Wash it with soft soap or water, whatever you feel necessary.
Let it dry, clean the water stains with a cloth before drying.
Washing the grinder
After we have removed the hopper, the grinding chamber is next. It will have the crushing tool i.e. blade or burr depending on its type.
Also, you need to take care of the motor if your grinder is automatic.
Remove the grinding tools i.e. burr or blade. Clean it with soapy warm water.
Then wash the chamber(manual grinder) with clean water. Or use a brush(automatic grinder).
Let the apparatus dry if washed with water.
Washing the Doser
Doser is an attachment which stores the grounds and dispenses a dose according to user's will. You need to wash this attachment too.
It is easy, remove it and wash it with soapy water.
Let it dry, remove the water stains from it.
Precautions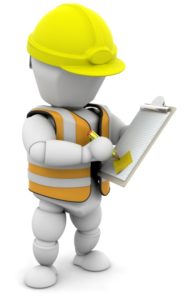 The apparent section describes the tips to handle the grinder with safety. You can increase the efficiency and working life of the grinding machine if you take care of these things while grinding.
Hot blades burn the coffee – yes, keeping the automatic grinder on for longer time can increase the motor temperature. Motor directly or indirectly rotates the blade and even passes the heat to it. Thus, when the grinder is used for a longer time it can probably burn the coffee seeds inside the hopper. There may not be traces of coffee burn easily visible but the fragrance of coffee changes. Even it tastes unpleasantly bitter after brewing.
Therefore, choose a little amount of coffee for grinding in a coffee bean grinder which you can finish within a day or two. There are many benefits of brewing the fresh grounds. It will have better aroma, essence, health benefits.
Overloading the hopper – hopper comes in different sizes which provide optimum stock storage. It is advisable to store coffee beans in the hopper only up to the amount which you can use within a week. After that period, the freshness of the roasted beans starts to deteriorate.
You might find bigger hopper more convenient than the smaller one to store monthly coffee. Instead of using a bigger hopper to store your monthly coffee you can opt for the coffee bean containers. Coffee containers are opaque and airtight which is to eliminate direct sunlight and atmospheric air. It can isolate the beans from the atmosphere and avoid oxidizing.
Choosing right grind size – the correct grind size depends on the coffee taste you want and the brewing methods preferable to it. The grind chart section above depicts the different ground level and its usefulness in different brewing methods.
To cut the story short, you will need a medium and uniform size of grind for the best-tasting coffee.
How to Choose the Right Grinder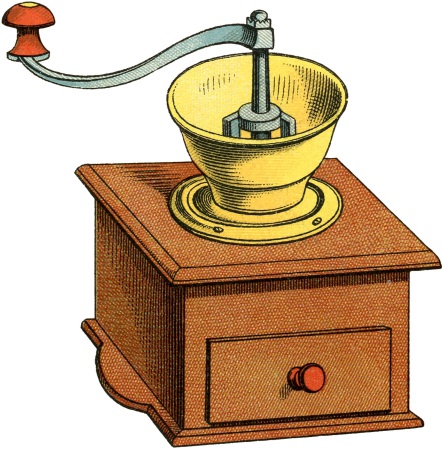 There are many factors to keep in mind while buying a coffee bean grinder. This section shows the factors which you will need to take care while purchasing the grinder which suits you.
Budget
The most important factor is the affordability of the coffee bean grinder machine. It is not necessary to spend a lot on expensive coffee bean machines until you have affordable ones.
If you don't like the coffee from the coffee maker, Or you only need to grind the coffee then it is best to choose the coffee bean grinder. However, grinders are economic when we consider the coffee maker machines. The grinder is more reliable and easy to handle.
We only advise you to choose the manual grinder if you are a solo coffee consumer in your home. Provided to, you only require the coffee once in a day. Otherwise, if there are a couple of coffee consumers in your house or require it many times in a day then going for the automatic grinder is advisable. Automatic grinders
Size of the grinder
If you want to buy a grinder fitting your kitchen decor and ergonomics, then look a grinder of an appropriate size. Generally, manual grinders are compact and light in weight but automatic grinders are robust. You can accommodate manual grinder into messy spots but the automatic grinder will require more space.
Firstly, judge the functions of grinder suitable to your demand and then purchase a grinder that fits in your place.
Burr
This tool is better than the blade because it can grind uniformly. Also, there are two types of burrs grinders have i.e. metallic and ceramic.
Metal burr is easy to manufacture and hence is cheaply available. It has a shorter working life than that of the ceramic burr. It is also difficult to wash as coffee stains easily deposit on it.
Ceramic burr manufacturing needs higher craft work and precision which makes it expensive. However, it is solid and more sturdy than the metal burr. It has a fairly long life and the grind quality is uniform. You can wash this even without a soap easily.
Speed
In automatic grinders, speed determines the time required for grinding the beans. Higher the speed of the motor, lower will be the grinding time.
Built Material
The outer material of the grinder is mostly of plastic make. We cannot banish that, but we can choose sturdy plastic over the delicate ones.
The body of the coffee bean grinder will face no harm or damage but still, you will need a harder plastic because it will have a better appearance than that of the delicate one.
Adjustable
Many grinders have the adjustability option which allows you to control the grind size. This feature does nothing but manipulates the clearance between the rotating tool and stationary tool. Therefore, choose the coffee bean grinder machine which has more grind size options.
While cleaning grinder
While cleaning the grinder there are certain mistakes people commit. This section enlists the precautions one needs to take while cleaning the grinder.
Do not force the attachments of grinder while opening
Clean the water stains after washing.
Avoid washing the grinder more than twice in a month
Also, avoid using harsh soap
Don't use water to wash the grinding chamber of an automatic grinder.
FAQ's
Here are the answers to some of the frequently asked questions about coffee bean grinder.
Difference Between Coffee Beans and Coffee Grounds
The only difference between beans and grounds is that both have different physical form. Beans are the coffee seeds and ground is its crushed or powdered form.
Coffee Beans
Coffee seeds which are two split halves of a seed are coffee beans. Bean is the yield which grows in the ground. Seeds of coffee look a lot like the beans and hence get its name as coffee beans.
Beans become brittle after roasting which is ideal for grinding in a coffee bean grinder. Coffee beans can be the green coffee beans or the roasted ones. However, green coffee beans have a hard layer which is not fit for grinding in domestic coffee bean grinder machines.
Coffee Grounds
The ground is the powder form of coffee we see after grinding. Grinding crushes the bean and makes it into powder form. Grounds are the prerequisite for brewing the coffee.
Difference between Coffee Maker and Coffee Grinder
The coffee maker can perform a wide variety of tasks while the coffee bean grinder only grinds the coffee beans. Both the coffee grinder machines require roasted coffee beans as its raw material. While coffee maker gives you coffee in the mug and grinder will produce the coffee grounds which we further need to brew.
Coffee Maker
This is a machine which can grind, collect, brew the coffee all by itself. It has a wider range of settings which allows you to make a coffee that you like. The coffee maker is robust in structure than the grinder. Its mechanism is complex and compact which makes this machine far more expensive than the grinder. Plus it will have a shorter life than most of the grinders.
Coffee Bean Grinder
The grinder can perform the grinding of the coffee beans. Its design focus on grinding tasks only. This coffee bean grinder comes in manual and automatic functions due to which it has a huge price range. But you can buy this at fairly lower price than a coffee maker. Simpler and sturdy mechanism makes it more reliable and convenient.
The EndNote
To summarize the idea of this article, without a grinder, there won't be any opportunity for you to taste the coffee in its best form.
The grind chart contains the importance of different grind sizes to make the perfect coffee by any brewing method.
Just practice all the precautionary measures stated up there while operating the grinder and afterward. Also, the coffee bean grinder reviews depict every quality and unique features of each product.
Comment to let coffeemakered know if there is any part of the article you didn't understand. Also, let us know if want us to review other coffee grinder machines or any specific coffee grinder.