Welcome to the CoffeeMakered's budget picks of the Best Coffee Maker Under $50, $100 and $200.
Hello there,
coffee lover!
Or should I say budget coffee lover?!
Well, don't get me wrong, but that is why you're here, right?
So let's get straight to the point. You want a budget coffee maker and we are going to help you get it. No other crap, Promise!
And these coffee machines won't be an inferior choice at all. We are going to take a look at a few of the best in class coffee makers even at this budget price.
Well, don't believe me? It's alright.
See it yourself in the review below!
At a Glance: Best Coffee Makers of 2020
Before moving to the in-depth reviews, take a look at our favorite products in this category.
Our Top-Rated Pick
When it comes to choosing the best coffee maker of 2020, which one should win? Of course, the one that gives you a cup of coffee with amazing flavor, aroma and does the work like a real barista!
Hamilton Beach 49980A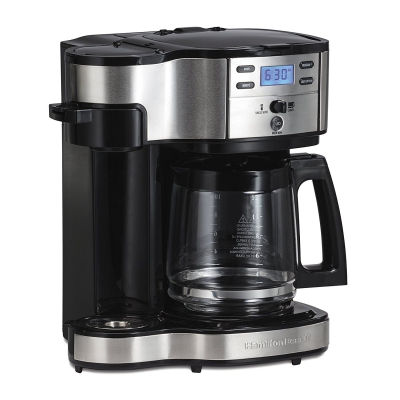 While purchasing a coffee maker, people often get confused whether to go for a single serve or a coffee pot maker. But not anymore! Buy this Hamilton Beach coffee maker that brews you both the single serve and a coffee carafe and that too with a great efficiency. This loaded with features coffee maker brews delicious coffee whether you are on the go or have a ton of house guests! Definitely the best cheap coffee maker ever!
Best Premium Coffee Machine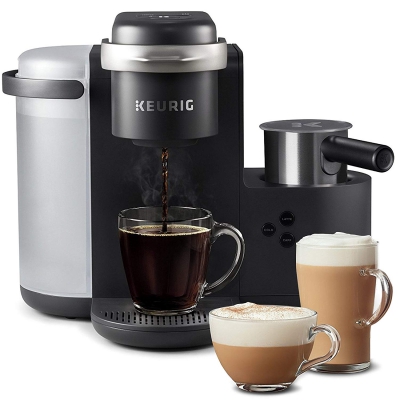 A premium coffee machine is the one that provides you with both the features and user convenience. With its amazing user-friendly interface, Keurig K-Cafe Single Serve is easy to operate yet manages to bring out the best from the coffee grounds! It can prepare you a latte, cappuccino or ice coffee in various sizes, shots, and temperature. This elegant looking coffee machine is one of the best premium range coffee makers out there in the market!
Best Budget Programmable Coffee Maker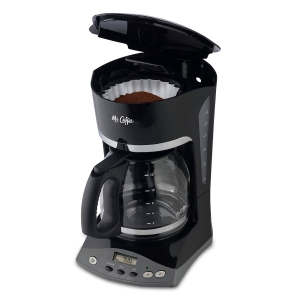 At this budget price, Mr. Coffee's SKX23 comes with such advanced features that won't fail to amaze you. This 12-cup coffee maker comes with brewing strength settings to let you make the coffee of your liking. And if you are a lazy snoozer, with the delay timer of this machine, you will automatically get poured a cup of coffee as soon as you wake up! Amazing, right?
Best Budget Single Serve Coffee Machine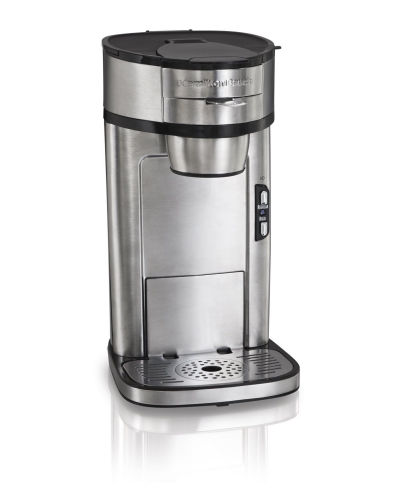 This amazingly crafted coffee maker pours you a cup of coffee without much hassle. Using a simple 3 button functioning, namely-Scoop, Place and Brew, the (49981A) Single Serve is easy to get hands-on for any user. It can also brew using the ground coffee of your choice. And its paper filter does not let that oily layer to be formed on your coffee. With the durable build and great tasting coffee, this machine is a go go!
The 4 Best Coffee Makers Under $50 – The Budget Picks of 2020
There is a myth that you have to spend a good amount of money to get the Best Coffee Maker. Here we will provide you with all the best coffee brewer systems which fall into the category of pricing less than $50. Now, getting into the reviews!
#1 Presto 02811 12-Cup Stainless Steel Coffee Maker
Next on the list is the Presto 02811 Coffee Maker, and it is mainly made of stainless steel. This machine is capable of making 4 to 12 Cups of rich coffee. On this system, you can get the coffee poured into the mug automatically.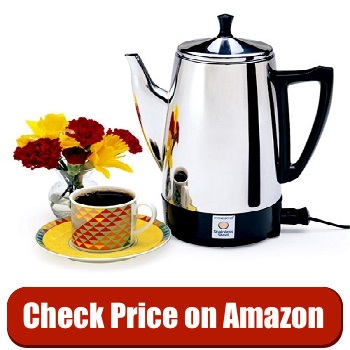 As per the product details, it can make one cup of coffee in a minute. The outer appearance of the coffee maker is attractive, and it has also got some traditional designs on it.
Here the voltage and the power readings are given as 120Volts and 60Hz respectively.
Description 
Isn't the bubbling sound of the coffee, one of the comforting sounds? Then you will get the aroma of the grounded coffee, and all this is just needed for a perfect morning. The design of this Presto Coffee Maker is found to be elegant, and similar to the ones which we get to see in hotels.
You will get the aroma of the grounded coffee, and all this is just needed for a perfect morning. The design of this Presto Coffee Maker is elegant and similar to the ones which we get to see in hotels.
One-serving in this quality coffee maker can provide up to 12 cups, and it has got the rate of one cup in a minute. After the coffee is set to be served, the unit can maintain a constant temperature for a long time until the coffee is consumed.
You will also get the utility of light in this, which indicates when the coffee is ready.
Features
This coffee maker is capable of brewing delicious and flavourful coffee. In total, this unit can make about 2 to 12 cups of coffee, with a rate of 1 cup in a minute. It comes along with an easy pour spout, and the design is elegant which gives you a majestic feel while using the machine.
The stainless steel adds to the beauty of the system, and it also helps with cleaning and maintenance. You will also find the filter tube, and the perk tube, both of them are made of stainless steel.
Here the dimensions are given as 13.1 x 9.7 x 6.2 (all are in inches), and it weighs about 4 pounds. The unit is an original product manufactured by the Presto brand, and they have got their origins from China.
Make sure that you unplug the system, before getting started with the cleaning process.
Pros
Quick output characteristics are found in this, thus giving you fast results
Here the processing and the handling part is found to be easy
Another advantage is that the maintenance part is also found to be stress-free
It comes along with a light indicator, which helps in knowing when the coffee is ready.
Cons
Some issues related to the rusting has been reported for this unit
Design Flaw was found with this Presto Coffee Maker
Checking the Amazon ratings and Coffee Maker review, this product has received amazing ratings. And there are many users who have recommended this coffee maker to other buyers.
Check out some Top Coffee Makers to 'Pour' you a cup of Coffee!
#2 Hamilton Beach 49981A Single Serve Scoop Coffee Maker
Next on our list is again a Hamilton Beach product, and it is named as the Single Serve Scoop Coffee Maker. This system has got different functioning style and stands out among all the top rated coffee makers.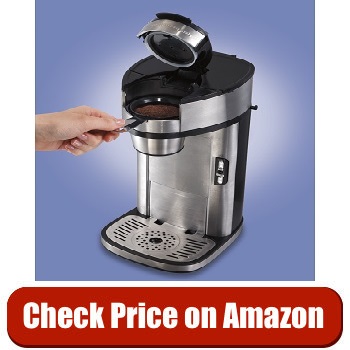 The main key points about this machine are that it is capable of brewing faster, and also it can maintain a suitable temperature as required by the user. You will also find an improved taste in the coffee prepared in this Hamilton Beach.
This Hamilton Beach can make use of ground coffee, and present you with the best coffee drink for you.
Description 
The rate of the coffee making is given as 8 ounces cup within 90 seconds time.
You can use this system for a Travel Mug as well, where the rate of processing is found to be 14 ounces travel mug in less than two and a half minutes. Also, it is possible to make use of inexpensive coffee grounds with this best tasting coffee maker.
Another major quality included in this product is the simplicity of the coffee making operation. There are three major functions, which has to be repeated for making the best coffee. These three functions are Scoop, Place, and finally Brew.
Features
This unit is an affordable option for all and has got some decent functions on it. You won't require any extra equipment for running the machine. Next point is that this unit does not require the K Cup pods for the making. Instead, the system comes with a mesh scoop filter.
This kind of filter gives the users the choice to use any flavored coffee pod, which can be of any brand, with any brew strength.
It also provides the option for the user to choose their preferred kind of brewing level, and so you can select your preferred brewing strength.
Here the specifications are given as 9.8 x 7.6 x 13.5 (inches), and it weighs about 5.3 pounds. It is originally manufactured in China, under the Hamilton Beach brand.
You will also find the unit is made up of stainless steel, and this provides a longer lifespan to the Coffee Maker.
Pros
Here the system has got one mesh filter in it, and so you won't require any paper filter for the working
You will get to choose between different brewing strengths on the same unit
It also includes one drip tray, which provides a spill-resistant functioning
This Coffee Maker  machine offers the right convenience with an easy maintenance
Cons
Some users mentioned the plastic taste from the brewed coffee
Also, some design issues have been reported against this machine
Ratings of this unit have been great, and there are many users who have strongly recommended this coffee maker to other buyers.
Worried about the plastic taste from your coffee?
#3 Mr. Coffee TF5GTF 4-Cup Switch Coffee Maker
Next on our list is the Mr. Coffee TF5GTF 4-Cup Coffee Maker. We will check on the history of this brand first, and then move on to the features and dimensions of this unit.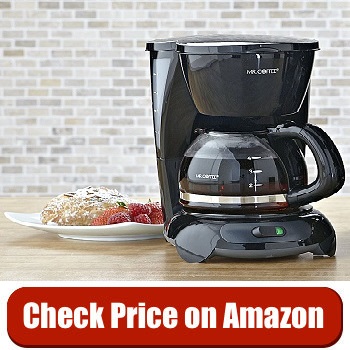 This brand has been in the business for more than 40 years now, and their main focus has been on only one thing. You know that right, and the answer is Brewing function. This company believes in providing the best kind of coffee at home.
From the name itself you can understand that it provides a 4-Cup output for its users.
Description 
This coffee maker can be set up in the office as well as home premises, and the reason behind this is the designing done. You will find the feature of Pause and Brew on this quality coffee maker, thus allowing the user to add any ingredients into the processing content.
With the Pause and Use feature, you can also enjoy your coffee before the brewing process even completes. You will find classic operational methods on this coffee maker, while the design is found to be great.
It is a fact that all the systems with simple design have got the best processing style, thus providing the best kind of coffee for the users.
Features
There is one light indicator included, which lets the user know when this system is On or Off. Not many brewing machines have got this kind of light indicator on them. There is one removable filter present within this, and it can be easily lifted for cleaning purpose.
Then there is this Pause N Brew utility, using which you can get one cup of coffee before the brewing function completes.
Then you will find one Dual Water Window on this brewing machine. Using this feature, you can check out the level of water present in the unit, and can add it accordingly.
This coffee maker system has got a Gold Tone Filter, and this is mainly used for enhancing the flavor of the coffee. Here the dimensions are given as 9 x 7.2 x 10.9 (inches), whereas the shipping weight is found to be around 4 pounds.
If you order this Mr. Coffee product from Amazon, you will receive the authentic model manufactured by Mr. Coffee itself, with the origins of China. As the unit is manufactured in China.
Pros
You can easily brew one cup of coffee for yourself, before the completion of the brewing process
It includes on gold tone filter which provides some enhancement in the taste of the coffee
The coffee maker has got a simple design, and here the controls are also easy to use
And one advantage which is common for all is the affordable rates
Cons
Some reliability issues reported for this system, but this has been varying for different users
Here the quality of the material used in the making can be improved
All the positives and the negatives are based on the user reviews here. Talking about the Amazon ratings for this Coffee Maker, they are found to be good in terms of the number of the reviews.
Do not forget to check out some of the great coffee makers!
#4 Mr. Coffee SKX23 12-Cup Programmable Coffeemaker
The final product is brought to you by Mr. Coffee brand, and this model is a new release which provides some advanced solutions for the user convenience. This unit makes the right blend of taste and style in one Coffee Maker.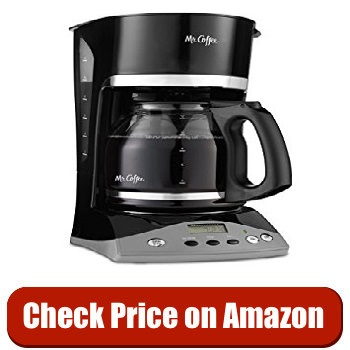 There are many programmable features present, and one of them is setting a delay brew.
Description 
This machine has got a capacity of 12 Cups, and you can serve about a good amount of hot coffee. You can set all the contents, and turn the system on and serve your friends with hot and fresh coffee.
Also, this comes with a setting on it which lets you choose the brewing strength required by you. You could feel the aroma in the air, which surrounds the place where the coffee machine is set.
Features
As mentioned before, this coffee maker has got advanced functions. One of the main features is the Delay Brew and using this you could set the brewing almost 24 hours prior as well.
Another important feature included in this is Grab-a-Cup, which is an auto-Pause feature. And using this you can take out the coffee into a cup, even before the brewing work is complete.
The dimensions are given as 12.3 x 9.3 x 13.8 in inches, and the unit weighs about 4 pounds. There is a feature with 2 hours automatic shut-off utility, thus you don't have to remember about shutting down the coffee machine on your own.
Pros
The design of the coffee maker is simple, and so it is easy with the controlling part
It requires less maintenance, and that is because users have to put fewer efforts on cleaning the system
It has got a sleek design, and thus adds beauty to the room where it is placed
Cons
Some reliability issues have been reported against this unit
Cost is known to all, and yes all these advanced functions are for less than $50. This quality coffee maker has been released only lately, and it has received good ratings by the Amazon reviewers.
The 4 Best Coffee Makers Under $100 – The Mid Range (2020)
If you are willing to spend a little more for a justified number of features then these coffee machines will not let you down and will surely prove to be a worthy investment.
Though the former coffee machines that we just reviewed are not an inferior choice at all and can do almost everything any high-end machine can do. However, a few more pennies can drastically improve the user convenience and that is what you pay for.
#1 Aicok Single Serve K-cup Coffee Maker
The key feature of this Aicok Coffee Maker is the Compactness, and it is right for the traveling purpose. Therefore, you can set the unit easily, and get to enjoy hot coffee anywhere, at any time. This is the peculiarity of this brewer, and that is you can easily take this machine along with you anywhere you wish to.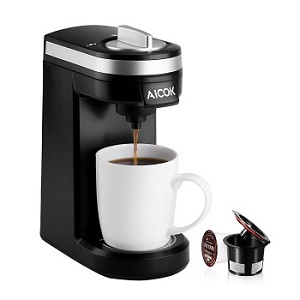 << CHECK PRICE ON AMAZON >>
This is the peculiarity of this brewer, and that is you can easily take this machine along with you anywhere you wish to. You can use the K cup along with this Aicok Single Serve product.
It allows almost any size of the cup, and here the Quick Brew technology gets you with fresh coffee in 3 minutes.
Description 
The system supports all the K Cups and brewers, and this is possible since the machine is made compatible to the K Cups.
You can get 3.5 ounces of water boiled in one minute whereas 12.7 ounces of water can be boiled in 2 minutes, with the process lasting up to 3 minutes completely.
Features
This K Cup Compatible Coffee Maker is designed mainly for the traveling guys. It offers a compact solution for all the coffee lovers, who are mostly on travel.
Next point to note here is that you will find a removable drip tray along with the brewing system. This helps with simplifying the task of cleaning and the maintaining the product.
Here the size of the water reservoir is found to be 12 ounces, and you could easily brew many cups before actually refilling the cup. You will also find easy controls on this machine, which makes the handling part easy for almost all kinds of users.
The dimensions are given as 7.8 x 4.3 x 9.5 in inches, and this coffee maker weighs about 3.3 pounds. It includes the feature of auto shut-off, which largely contributes to saving a good amount of power.
Because of the compact shape, you can set the unit easily in any place, be it home, office, apartment or any place. This product is BPA-free in nature and comes with a two years manufacturer's warranty on it.
Pros
The major feature is that it is compact in nature and well-efficient
Because of the compactness, it can be used for traveling as well as for office use
Here the controls are easy to understand
Also, the built quality of the coffee maker is considered to be good as well
Cons
Some issues related to the filter were reported for this machine
Also, some of the users reported the leakage problem
Checking the Amazon ratings, this product has received amazing ratings. There are many users who have reviewed this coffee maker, and many of them have recommended it to other buyers.
#2 Hamilton Beach 12-Cup Coffee Maker 48464
We have got the Hamilton Beach 48464, and this model does not include any classic glass carafe. You will get to use a one-hand dispensing technology. The unit does not have any glass carafe along with the main system.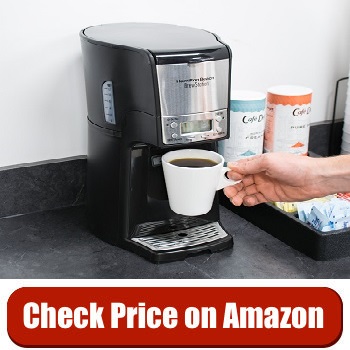 Here you will not find any different section for pouring or any spilling. Therefore, no pouring or spills will occur while brewing your favorite coffee.
The machinery parts are not delicate, and this is because of their strong built nature. Thus you don't have to worry about any breaking issue here.
Description 
This system does not include any glass carafe in it. Thus you don't have to worry about any breaking issue. It includes one gentle heater within, and this helps with maintaining the temperature of the coffee.
We will provide you with some tips and points which you must remember before using the system. Wash the coffee tank, filter basket, and also the drip tray using warm soapy water. It is recommended not to place the reservoir in the dishwasher place.
Also, you can make use of dishwasher liquids for preventing any deposit. Maintaining the unit rightly will not only help in increasing the overall efficiency but also the longevity of the coffee maker.
Features
The main key feature of this product is the one-hand dispensing, it includes no carafe, so there is no pouring or no spill condition.
You can choose from a good range of brewing styles in this. And these can vary from regular, strong, cold coffee, and there are some batch options too.
Also, you will find the auto shut-off utility here, which is adjustable in nature. Here the shut-off function can be applied within a time duration of 0-4 hours. So you can set any time which suits you rightly.
The dimensions are given as 11 x 8.2 x 15.2 in inches, and it weighs about 6 pounds. This unit falls under the category of Kitchen Appliances, and the manufacturer's name is Hamilton Beach.
This coffee maker can brew multiple cups of coffee, while the dispensing function is available for only one cup at a time. We will now move towards the pros and cons of this coffee maker.
Pros
It allows for different brewing strengths and comes with an auto shut-off function
The handling part of this product is found to be easy, as it comes with simple controls
You can also maintain the temperature of the coffee for a long time within the system
Also, the technology, on which the unit is based has been appreciated by many users
Cons
The documentation concerned with this coffee maker needs improvement
It does not come with a good warranty feature
The cost of this Hamilton Beach model is within the estimated budget. We checked the ratings of this same unit on Amazon and found that it has received some amazing ratings on it.
Check out some of the Best Coffee Maker Brands as reliable as the Hamilton Beach!
#3 Hamilton Beach 49980A Single Serve + Carafe Coffee Maker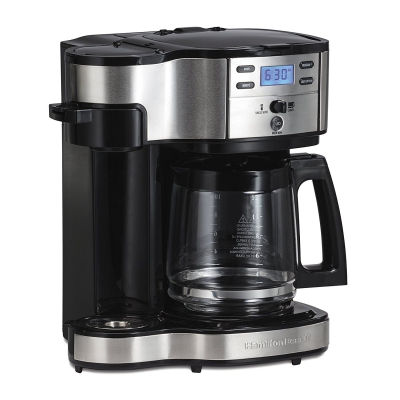 Description
Top Coffee makers usually come in two types. Some brew you a single cup and some can brew a whole coffee pot. However, the 49980A from Hamilton Beach is a two-way coffee maker, which means that you can use it both as a single serve coffee machine and a Coffee Pot Maker!
There are two separate places for both a cup and a pot. The amazing thing is that the single serve place can easily hold a big tumbler. And if you want to pour some coffee for the usual-sized coffee mug, just change the base attachment by flipping it over and you're ready to go! The cool thing about this feature is that it prevents coffee from spilling outside and keeps the machine clean.
Features
The coffee filter for single serve also works as a scoop due to its well-thought design. Also, you can fit a K Cup or K Pod right there if you want to.
It is a programmable coffee maker, so if you can program it to brew you the same serving every single day. It is also quite simple to program the machine; you just press the program button and the machine will record everything on its own. Also, you can schedule the machine to brew you a cup of coffee in a particular time within the next 24 hours.
With such features, the price of the Hamilton Beach Coffee Maker is quite low. Of course, it fits in the mid-range segment but the price is quite low compared to the quality of service it provides.
With the two way system, you can easily pour yourself a travel mug if you're on the go. And always be prepared for a party with the 12 cup glass carafe.
All in all, this two-way coffee maker from Hamilton Beach is definitely a worthy and our favorite product.
Pros
Options to pour both a single serve and a coffee carafe.
The mesh coffee basket provided on the single serve side also works as a scoop.
Great for people on the go or those who have a lot of guests.
Adjustable base for both a tumbler and a coffee mug.
This top rated coffee maker can be scheduled to brew you coffee within next 24 hours and it can also be easily programmed with specific instructions.
Cons
Power cord is a little short.
On the carafe side, you have to use the traditional paper filter or purchase a mesh one.
#4 Cuisinart CHW-12 Coffee Plus Programmable Coffee Maker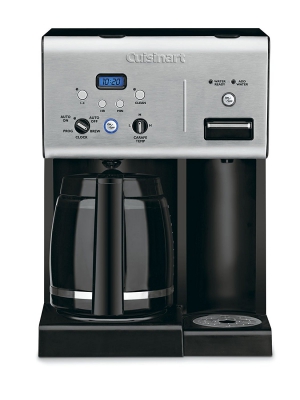 Description
For those who are quite specific related to their coffee, Cuisinart CHW-12 works like a charm. This solid coffee machine from Cuisinart does 2 jobs. The first to brew coffee and the other for hot water. There is a clear separation on the machine for that.
The coffee maker is fully automatic. It can be programmed with auto on and auto off feature. The auto on feature is useful to brew a cup of coffee automatically at a specified time. The auto off feature is also pretty useful when you are using the auto on feature.
Features
Cuisinart CHW-12 comes with 3 temperature control options, from low to high. In case you are making coffee using milk, the high temperature is quite helpful.
Also, the coffee machine comes with a self-clean feature, which will make your cleaning task less tiresome and will add to the coffee machine's life.
The hot water can be easily poured using the user-friendly lever provided. It also comes with a safety lock, which stops the lever to be pressed accidentally. Also, the hot water feature has its own start/stop button and other features. Also, it comes with a built-in charcoal water filter. The hot water feature can be handy in multiple kitchen requirements including making soup, green tea, etc.
The coffee maker comes in 3 looks. All of these look pretty fine, however, the red one is our favorite! All in all, this coffee machine from Cuisinart is a decent one.
Pros
You don't get to see the adjustable temperature feature in all the great coffee makers out there. It comes in quite handy at times.
The water level indicator on the side is also pretty thoughtful. All these small functionalities add a lot to the user convenience.
It is fully automatic with auto on and off features. Also, you can program this coffee maker.
Both the coffee brewer and the hot water disposer can work along with each other.
The coffee maker looks pretty stylish with superb color finishing and stainless steel styling.
Cons
The opening to pour water in is quite small.
There is no water level indicator on the hot water side.
The 4 Best Coffee Makers Under $200 – Premium Picks of 2020
Now, we have reached towards our premium range of products. These are the top rated coffee machines from the premium segment that does not only provide you with best in class functionalities but also offers amazing user convenience and independence.
#1 Ninja Single-Serve, Pod-Free Coffee Maker Bar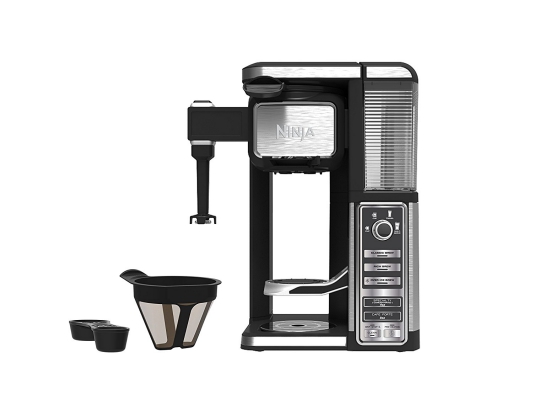 Description
Ninja Coffee Bars have always been one of the topmost coffee making brands due to their world-class features.
Here, what we are looking at is a single serve coffee maker with a number of unique features. With this single serve coffee machine, you can fill up a cup, a mug or a travel coffee tumbler easily with the pre-set buttons.
Features
There is an adjustable stand for you to put your cup or mug on so that the coffee does not spill or splash out. However, most standard sized mugs will still splash out the coffee even after adjusting the height. Moreover, cleaning the mess on the stand is a bummer!
The Ninja Coffee Bar comes with a variety of brewing options. There are classic, rich and over ice brew as the basics and there are specialty Cafe Forte 4 oz and 8 oz brew options for more concentrated coffee brewing. All the brewing options work efficiently and provide with a flavorful cup of coffee. We especially loved the iced coffee, delicious!
This Ninja Coffee Maker comes with a built-in frother to froth and takes your coffee making to another level with a single machine.
The overall build quality of the machine is top-notch. It looks quite stylish and justifies an over a hundred bucks price tag. Though there are certain design issues that could have been resolved.
Pros
All the 5 types of brew options allow you to make a delicious variety of coffee every single day. The concentrated brewing works on Advanced Thermal Flavor Extraction Technology.
Most importantly, it brews tasty coffee!
Built-in frother gives a real barista feel!
Build quality is amazing.
Justifies the price tag.
Cons
Spillling issues due to height of the stand.
The brew sizes are not well calibrated.
Cleaning is quite tiresome.
#2 Keurig K-Cafe Single Serve K-Cup Pod Coffee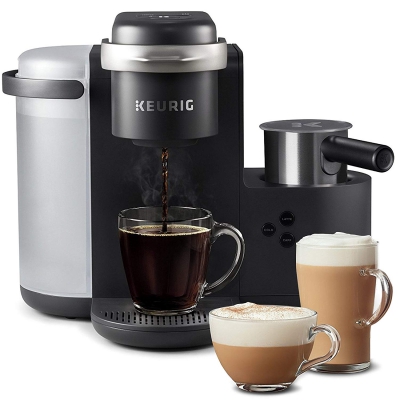 Description
If you are looking for a single serve machine that can brew you a hot or cold latte and cappuccino, this is the one for you. Keurig K-Cafe does the work like a pro to make you an intense cup of coffee.
This is a K-Cup Pod Coffee Maker. Just fix in your favorite kind of K-Cup Pod and get your favorite kind of coffee in a matter of minutes.
Features
The coffee machine comes with a built-in frother. This allows you to prepare a delicious cup of coffee with using fresh milk, soy milk or almond milk. The frother is dishwasher safe so that you can wash it without tiring your hands out.
There are 4 brew-size options to choose from. i.e 6 oz, 8 oz, 10 oz and 12 oz. However, there is no adjustable base to prevent the splashing of the coffee.
The whole machine functions quite simple. Just insert the K-Cup Pod of your choice and press the button of your choice of drink.
The water reservoir here is larger than the most coffee machines. The 60 oz reservoir allows brewing 6 cups of coffee before having to refill it.
This Keurig Coffee Maker comes with an option of strong brew, which allows you to make a more intense cup of coffee. Also, with adjustable temperatures, there is an option to pour a shot so that you can enjoy any specialty drink.
The best thing about this Keurig Coffee Maker is its user-friendly interface using which even a kid can pour a coffee for herself. With all such features and user covenience, there is nothing to complain about this coffee maker!
Pros
Adjustable brew sizes of 6, 8, 10 and 12 oz.
Superb user-friendly interface.
Can prepare a latte, cappuccino or an iced coffee.
Built-in frother that increases the quality of the coffee, which can be washed in a dishwasher.
Strong brew and temperature control are some nice features.
If you like to prepare specialty drinks, the shot brewing option comes in handy.
Looks elegant and professional.
Cons
A little bit costly. However, you get a quality coffee maker for what you pay.
For smaller cups, coffee splashes out because of the unadjustable stand.
#3 KRUPS Grind and Brew – Automatic Coffee Maker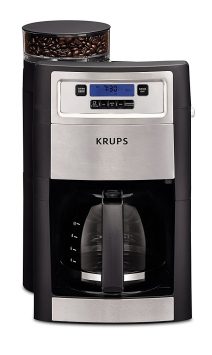 Description
So everyone knows that there is nothing more amazing than fresh ground coffee. This grind and brew machine from Krups comes with a built-in grinder and a drip coffee maker. And without a doubt,co this is the best automatic coffee maker with built-in grinder.
Features
The grinder has 5 grinding setting from coarse to fine so that you can grind the ground coffee your choice. Once the grinding is done, you can prepare coffee ranging from 2 to 10 cups. There is a separate setting for you to choose the exact number of cup of coffee so that you can be precise about how much coffee you are going to get.
This Krups grind and brew drip coffee maker allows brewing in 3 strength settings. I.e mild, medium and strong. Once your coffee is brewed this machine can keep the coffee hot for 2 whopping hours! So not having to worry about the coffee getting cold anymore.
This coffee maker is great for those that like to prepare coffee from their own choice of ground coffee. And it is also great for any workplace because of its brewing capacity. The machine can also be programmed to auto start and brew coffee at the scheduled time!
For the lover of fresh ground coffee, this is the perfect machine in our opinion. Surely, you don't get a variety of brewing options here as the other coffee machines but that should not matter to those who crave for a quality coffee, which this machine provides effortlessly.
Pros
Comes with an efficient built-in grinder that allows you to grind ground coffee in 5 sizes.
With this Krups Coffee Maker, you can prepare 2 to 10 cups of coffee. There is a separate setting to choose the exact number of cups.
The coffee machine keeps coffee warm for 2 hours with its best in class technology.
It can be scheduled to auto start at specific time.
Cons
No variety of brewing options.
The grinder is too loud.
Rather than on switch, there are grind+brew and brew+off options.
A bit bulky!
#4 Zojirushi Fresh Brew Plus Thermal Carafe Coffee Maker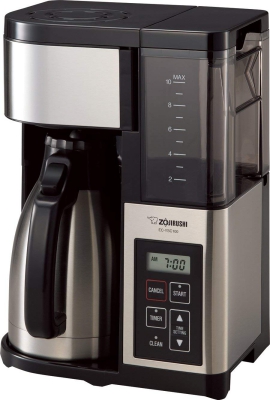 Description
The final product on our coffee maker review is Zojirushi EC-YSC100 Fresh Brew Plus Thermal Carafe Coffee Maker. For those that seek for quality coffee acccessories are not unaware of Zojirushi brand name. Zojirushi makes some of the benchmark coffee makers and coffee accessories that are there in the market. Let's get into this zojirushi coffee maker review!
Features
Zojirushi is well-known for its vacuum insulation technology. The same is used here in the thermal carafe, which keeps the coffee warm for hours. This amazing coffee maker machine makes use of vacuum insulation that prevents the coffee from burning.
The carafe is BPA free and everything that comes in contact with your coffee is non-toxic. Also, the thumb activated carafe is super convenient to pour coffee without getting it spilled. Most of the coffee machines in the market do not provide such quality coffee carafe.
The water tank here can be removed from the coffee machine for easier filling. There are clear markings as well to indicate the amount of water.
Zojirushi EC-YSC100 brews coffee at the optimal temperature of 200 degrees f, which is the perfect setting to make an intense, flavorful cup of coffee.
Also, there is a scheduler that allows to schedule an auto start at specified time withing next 24 hours. So if you are always on the go and want a cup of coffee in the morning without getting bothered, this coffee maker will do that for you.
Pros
The 10 cup capacity is decent.
The thermal carafe provided is world class and cannot be any better. It keeps coffee warm for hours and is super user-friendly as well.
The best thing about this Zojirushi coffee maker machine is that it brews coffee at more than 2000 degrees f, which is the perfect temperature to bring out the best flavors from ground coffee.
You can schedule it to autostart within next 24 hours.
There is a clean light indicator to indicate whether cleaning is needed for optimal brewing experience.
The water tank can be removed. So no worries of spilling!
Cons
The beep sound of the machine is a little annoying and loud.
There is no auto shut off feature. You have to manually turn off the device.
The EndNote
The sole purpose of publishing this article was to bring you a list of the best coffee machines on the market, categorized in their respective price range. We hope that we have fulfilled our purpose and have presented you with all the possible aspects.
Though, if there is anything you need to know further, we are right here for you. Just drop a comment and we'll be on it.
So that's it! This was the review of best coffee machines under $50, $100 and $200. Choose the best with coffeemakered!