La Pavoni is for the perfectionist in the house. If you believe in the rule – Coffee can't be anything less than 'the best', then La Pavoni Espresso Machine is the thing you need to check out.
While writing the La Pavoni review, one important thought crossed my mind. If you are planning to go for a cheap espresso machine, then you need to stop the search right away. The reason is, espresso makers are advanced. They adopt sophisticated methods to give you the authentic press! Low-priced espresso machines don't last long, making all your investment pointless.
To all my readers and those in need of quality espresso machines – setting a bit higher budget won't put you in any trouble.
La Pavoni Espresso Machine Review
I would like to define La Pavoni Pro in my words, like what I felt on the first look –
It's a heavy-chrome based espresso maker whose ultimate goal is to make the best espresso, and also help you out with steaming the milk. Personally, I don't drink too much espresso but the added cappuccino attachment turned out to be a big saviour. 
It's important that you know your "machine" well, and ask questions like – what are they, how they work, the benefits, requirements, etc. Once you get clear with all of this, you will better know whether you need it or not.
Overview of La Pavoni Espresso Machines
La Pavoni Espresso Machine has a series of espresso makers. Yes, a lot of them.
Too many options lead to confusion. In such a case, people usually end up buying the wrong product. That's a common scenario.
What's the way out?
As a responsible person, you should know each of the products thoroughly and what the La Pavoni Expresso Machine has to offer? Once you get the answers, I am sure you could make out a good, suitable choice. Below are the three La Pavoni Espresso Machine options that trending in the market:
#1. La Pavoni PC-16 Professional Espresso Machine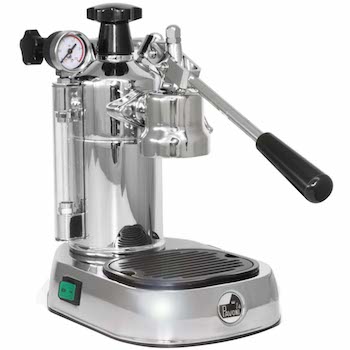 Small and Sleek. The first two key things that define the PC-16 Professional Espresso Machine. The base of this espresso maker comes in two shades – chrome and black. You can choose the one that matches well with your home decor. Gauge is set on the top portion, whereas on the sideways you will find the on/off switch. There is a plastic handle thing near the lever ends which complements well with the metallic shade.
As you read along these features, you may think the La Pavoni Espresso Machine is large or bulky. The fact is La Pavoni Professional is small in size, and it can easily fit in the smallest of the spaces effortlessly.
Highlights of La Pavoni PC-16
Best for home use
Metallic body
Manual brewing
Removable drip tray
Holds about 36 liters of water
Steam utility added for cappuccino making
Makes single and double shots
Dual frothing; manual and automatic wands for milk steaming
The use of piston for the espresso making opens the door for improvisation. What I meant is, not all people know how to make espresso. The piston setup provides you hands-on experience on the espresso making and with time you will know how the perfect espresso tastes like.
In the end, it's not the press-button-and-ready coffee model. You need to put in the efforts and learn how to use the La Pavoni Espresso Machine. It would be all worth the efforts!
#2. La Pavoni EPC-8 Europiccola Espresso Machine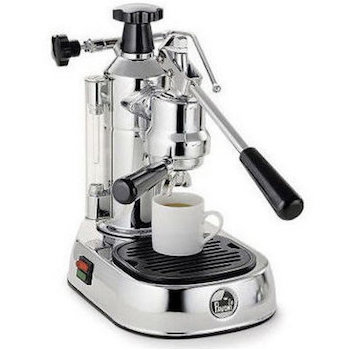 Another stylish La Pavoni Europiccola Review is next on the list. It's a well-built model that stays for a long time and can offer you constant espresso shots for every pull of the lever. Steam and piston are the driving factors, provided with internal thermostats that keep a check on the pressure. It easily prepares two cups of espresso and comes with automatic milk foamer, measuring spoon, and 2 stainless steel filter baskets.
The lever on the La Pavoni Espresso Machine is lifted above so that water is infused deeply inside the coffee grounds. Then, the same lever is lowered down that forces the water to pass through the coffee grounds, and that's how you get the extracts.
Highlights of La Pavoni EPC-8 Europiccola 
All-steel construction
Heavy chrome plating
Internal thermostat keeps a check on the pressure readings
Water level display is provided on the side of the boiler
Safety shut-off keeps the La Pavoni Espresso Machine safe, in case of overheating.
Sturdy in nature
Comes with a lacquered finish
Clean, soft cloth recommended for cleaning and wiping.
Here the boiler has a capacity of holding 20 ounces of water and can prepare about 8 serves (for 2-ounce cups). The traditional steam wand can create thick foams and heat the milk for the lattes and cappuccinos.
You get an overall 1-year warranty for this La Pavoni Espresso Machine. Bring the specialty coffee in your kitchen, with just the right amount of foam on the top.
#3. La Pavoni PA-1200 Napolitana Automatic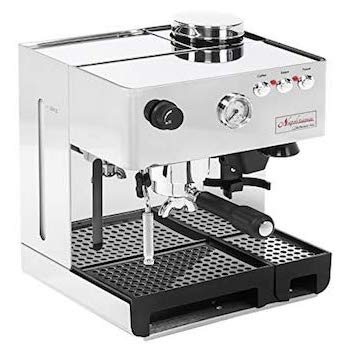 Although La Pavoni PA-1200 is advertised as the automatic espresso machine, this one's actually a semi-automatic model. It includes the conical burr grinder which is by far the best grinder suitable for the espresso making. This unique type of grinders gives a consistent type of coffee ground, without overheating them.
The Napolitana features a coffee press, stainless steel baskets, in-built coffee grinder, and the ULKA pump that could generate 16 bars of pressure.
This La Pavoni Espresso Machine is entirely made of stainless steel, which is a rare thing to find. On the front side, you will find four buttons like the power button, espresso brewing button, heat to steam temperature, steam valve open function.
Highlights of La Pavoni PA-1200 Napolitana
Stainless steel baskets
Conical burr grinder
16 bars of maximum pressure
Water reservoir capacity is 100 ounces
Compact design
ULKA water pump
Long power cord
Commercial-grade grinder and brew quality
1-year warranty on both the parts and labor work
You also get a steam wand on this La Pavoni Espresso Machine (though a bit short in length) that can help you with the froth creation. Also, the unused water in the process won't go waste, it will travel back into the reservoir for the next round of espresso shots.
For Whom Is It Made?
If you are someone who wants to get the work done with a press of a button, then these La Pavoni espresso makers are just not your thing. Whereas, if you are willing to put in some efforts and wish to enjoy delicious authentic espresso every morning from a machine that is built to last long – then you may consider this.
Look, I didn't mean to discourage you.
But I have seen a few of my friends complaining about the La Pavoni Europiccola Reviews and how they find it difficult to pull the shot every day.
You knew it earlier, and then later complaining about the La Pavoni Espresso Machine? Does that sound valid?
So, what does it take the La Pavoni to be the right choice for you? 
Manual power, and a bit higher budget.
For a person who is strict on budgets, may find this La Pavoni Espresso Machine a bit too pricier than other manual lever espresso makers.
But looking at the brighter side, you get to enjoy hot espresso shots every morning from a well-built machine that runs in for a long time. I can bet you can never go wrong with a La Pavoni.
Manual Espresso Makers demand efforts, and so if you are willing to invest in that – make sure you are well ready to put in the efforts too.
What are the users saying about La Pavoni Coffee Machine?
If you are tired of using automated espresso machines and want to go back in the time when coffee really tasted as it should be, then this long-lasting machine is here to serve you for years. It comes with heavy all-steel construction, and the chrome plating on the outside makes it easy on the cleaning. You can use this superb La Pavoni Espresso Machine for any kind of coffee, it's easy to clean and also loads up quickly. – Amazon review
You may take time to know each other but serves the best espresso and latte every single day. Quick, reliable, and consistent in quality. Once you have dialed up the right temperature and grind quality, each pull on the La Pavoni gives the perfect crema. – Amazon review
The best thing about a manual La Pavoni espresso maker is that it lets you make the coffee of your choice. Another great thing about this machine is, almost all the parts are repairable. – productreview.com
Two and a half years. Still going strong and making the best espresso shots. On the other hand, the system may not get the desired output in the first pull if you kind of experiment with different coffee beans. Keep adjusting the grind, temperature, and your curiosity on. It will definitely give a consistent and the best espresso later onwards. – Amazon review
Conclusion
If you love the art of coffee making, and especially the Espressos (a hard-core lover), then La Pavoni Espresso Machine is something that you will love to use. On average, it has been rated 4.3 out of 5 stars on different La Pavoni reviews and other seller websites making it a strong brand to look upon. What do you think about the La Pavoni models? Yay or Nay?!