It is very rare to find a coffee maker which is modern in design, yet traditional in its processing. In this Hamilton Beach Coffee Maker Reviews, I will review similar coffee machines which I came across.
The best coffee maker depends on many criteria like the processing time, convenience, types of coffee supports, and many others.
Hamilton Beach offers coffee makers with varying sizes and coffee making choices. Either you could prepare the coffee for yourself, and even serve it to your family or a gang of people.
You need to go through each of the product details and look out for the one that matches all your requirement.
Best Hamilton Beach Coffee Maker Reviews of 2020
Looking into the Hamilton Beach systems, they come along with unique supports like the FlexBrew, BrewStation, and others which are exclusively available here.
FlexBrew supports flexible kind of brewing giving you both single cup as well as carafe size brewing. In the BrewStation series, you get a convenient design which allows you to pour coffee with a single-handed style, and also internalizes the brewing process.
This helps with keeping the coffee fresh for a longer time, maintaining the same taste on your first and the last cup of coffee.
Following are some of my personal favorites among the Hamilton Beach systems, and definitely, I would like you guys to take a look on these for your next big purchase.
#1. Hamilton Beach (49980A) Single Serve Coffee Maker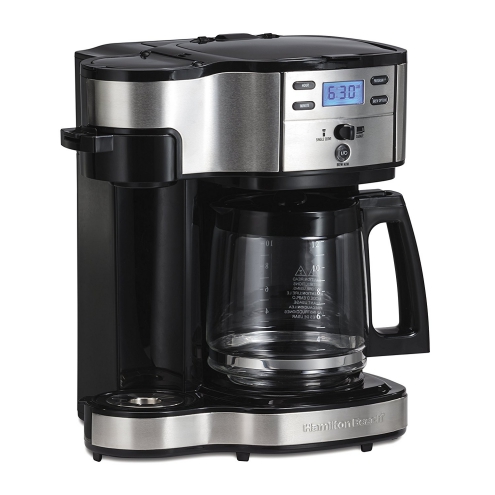 Break out the routine of standing at the long queues and getting frustrated on the slow processing of your Coffee Machine! Now you can serve yourself a delicious cup of coffee at an affordable price, and with a low maintenance – that's what I experienced with the Hamilton Beach 49980A model. It is made out of stainless steel material, which keeps it durable and long-lasting.
The 2-Way brewing support offers you a single serve coffee as well as 12-cup coffee. That's way too high range, isn't it? Hamilton Beach makes the working smooth for you.
Quick Overview
A single cup or a 12-cup glass carafe setting.
Includes an inbuilt clock and timer, giving you more comfort and sleeping time.
Use the soft pods, and escape all the scoop and measuring work.
Select the preferable brew strength from regular to bold.
It's completely an auto-programmed system and comes with a shut-off feature.
On the digital display, you could set the hours and minutes and program the working almost 24 hours in advance.
A travel mug will offer about 14 ounces of the drink. This Hamilton Beach Coffee Maker does not include any travel mug though, you need to get them separately.
For the single serves, all the loose coffee grounds can go well and also the soft-pods. This machine is not compatible with the K-cup pods, so yes don't get mistaken here!
Not Compatible with the K-cup pods is a major drawback itself since it's the most used coffee pods at all homes. You will be required to get a new brand or find out the other brewing ways on this Hamilton Brewer.
If you are looking for ways to brighten up your morning routine, then it would be a good idea to get this single serve Hamilton Beach Coffee Maker. It will serve you with a delicious coffee in a standard-size as well as in a travel size coffee mug.
#2. Hamilton Beach (49981A) The Scoop Single Serve Coffee Maker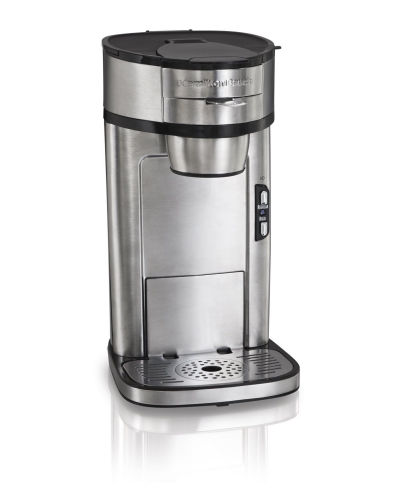 Make yourself a hot, brewing coffee which is not any less similar to the gourmet machine coffees. I am talking about The Scoop Series by the Hamilton Beach. Another interesting part is how you can make out a tasty coffee with a simple coffee pod or any other inexpensive coffee pod.
The working is pretty easy, with just three basic processes- Scoop, Place and finally the Brew.
This way you can get a simple cup of coffee with basic tools, and fewer worries! Also, it's a standalone unit, and so no need for any extra equipment or tool for running the whole machine.
Well, there is a special mention here! This Hamilton Beach Coffee Maker was awarded by the Industrial Society of America for the machine design which makes use of coffee grinds instead of the packed coffee pods.
Quick Overview
Brew up to 14 ounces of the coffee onto your travel mug or a regular coffee mug.
Built up using stainless steel material for a better long lasting and reliable use.
It can brew about 8 ounces of coffee in less than 90 seconds.
The adjustable stand holds both the standard as well as travel mugs easily.
You can prepare both regular as well as bold coffee on this Hamilton Beach Coffee Maker.
For best results, use freshly roasted beans which is not more than a week old.
No more K-cup or any other coffee pods! The Scoop Hamilton Beach has a mesh filter inside, that gives the choice of different flavors like caramel, vanilla along with the selection of the brewing strength.
For better brewing, make sure that you place your L-shaped cup in the right way. This machine is also suitable for outing fun, so set your travel mugs on the top of the drip tray properly. In this way, you could have your favorite coffee shots while on the go.
#3. Hamilton Beach (48464) Coffee Maker with 12 Cup Capacity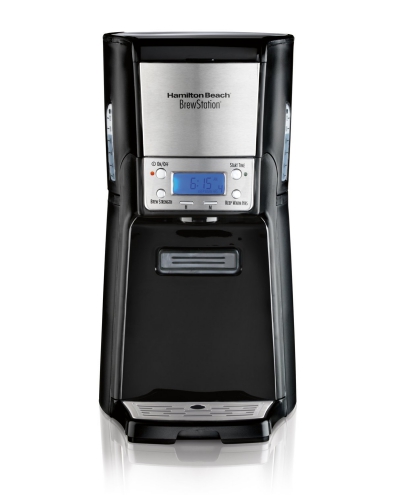 Get all the convenience and dispensing done with one-hand on this Hamilton Beach 12 Cup capacity Dispensing Coffee Maker. The surprising thing is that here the dispensing is performed with the absence of any inbuilt glass carafe. It has got an enclosed structure which ensures that the coffee remains warm and keeps the heat within it for some extra hours.
Before you start using this Hamilton Beach Coffee Maker, drop in all the components like a coffee tank, water reservoir and the filter basket in a hot, soapy solution. Never place the coffee tank and the reservoir inside a dishwasher in any way.
Well, the working is similar to any standard drip coffee brewer, but with a slight difference. Here the coffee is brewed inside a water tank instead of the regular carafe.
Quick Overview
This Hamilton Beach Coffee Maker has an internal coffee pot for storage and could brew 12 cups like any other drip coffee system.
It's a no-carafe setup and holds all the coffee in the internal tank provided.
In-built programmable setup on which you can set timers with customized hours from 0 to 4 hours.
Control panel uses stainless steel, which gives it a classic and elegant look.
You need to press the bar to dispense your coffee when you are actually ready for it.
Customize your drink with different brewing strengths like regular, bold, or even the iced coffee option.
Just remove the internal tank and the brew basket, to do any cleaning process. Remove only the two mentioned components, and you are good to go.
This model is not your usual glass carafe design, and it avoids all the spills and makes the pouring easy. You can dispense the coffee just by using a single hand, without the need for a carafe.
Also, there will be less breaking or damage as there are no such delicate or fragile components on this Hamilton Beach Coffee Maker. This will be a great advantage if you are not a careful-handling person.
While you are working, you may get an error message like 'pour water' with a beeping sound. This is a technical issue, so you may contact the officials and solve the problem out.
While some users said that they didn't like the built material on this. Guys, to solve this, it is better to test out the quality by yourself and make a purchase only after confirming all the system features. This will make the purchase effective and easy, isn't it?
#4. Hamilton Beach (47950) Coffee Maker BrewStation 12 Cup Dispensing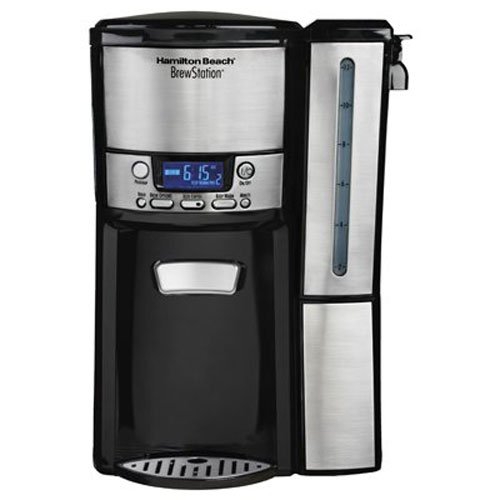 Next up on the list is the Hamilton Beach 47950 model, which is a 12-Cup Dispensing Coffee Maker. It comes with a removable reservoir that replaces the old glass carafe design. Less breaking from now onwards! Also, another important task has been made easy, and that is – filling up the water reservoir.
The reservoir has a good size, offering you multiple coffee cups without the need for continuous refilling.
A small water level indicator also lets you know when to refill the water reservoir back. They also allow you to fill small amounts of water as well.
Quick Overview
Hamilton Beach Coffee Maker maintains the heat and the freshness of the coffee for some extended time.
Working is similar to the traditional system but is devoid of any glass carafe.
Make your coffee in the way you like it – bold, regular or even the iced coffee.
Dispenses one cup of coffee at a time. It comes with bar, and you need to press it for dispensing your coffee.
The water reservoir can be moved from its original place which makes the cleaning and refilling job pretty easy.
It comes with measurements indicating the amount of water required and the level of ice which is advisable. This only makes the processing perfect for a delicious cup of coffee.
There is a BrewStation tank included, which keeps the coffee temperature in check. This will maintain the right temperature without burning the coffee. This is a crucial concept, since the system if not properly checked may burn your coffee if they are on continuous heat. Hamilton Beach understands this and keeps an automatic check on the state of the coffee.
Coming to the shortcomings, water may get collected on the Keep Warm plate. So the cleaning could get a bit difficult in this case.
Some other buyers mentioned the poor durability of the Hamilton Beach Coffee Maker. These are the issues which I found with the unit which may also trouble you.
#5. Hamilton Beach (49976) Coffee Maker, Single Serve & Full Coffee Pot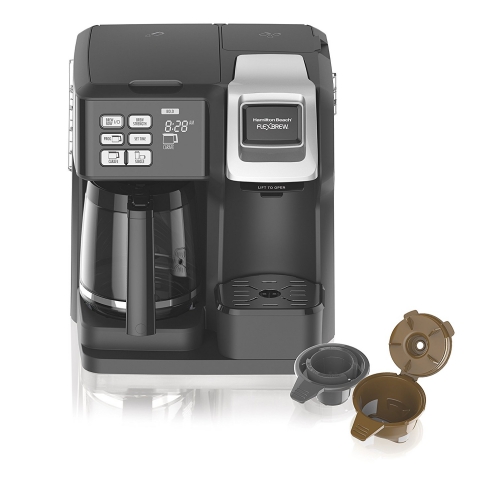 If you are a true coffee lover, then the first point which you may look for is the Customization on the machine. Anybody can get bored if the same flavored coffee is served all the time. Consider this point, and check on the different coffee settings and variety of coffees that you can make out on your Single Serve Hamilton Beach Coffee Maker.
The one which we are reviewing here is the 2-Way FlexBrew Coffee Maker, that makes different coffee in varying quantities.
There won't be any confusion with the pouring and refilling, as they have got separate windows on either side. So, less confusion and better handling.
Quick Overview
Works like a single serve and also as a large carafe coffee – making it a 2-way coffee maker.
Hamilton Beach Coffee Maker goes into a pause & serve state while you are working on the carafe. This keeps you safe and protected while working on the coffee.
A programmable clock keeps your coffee in check, and the 2 hours warm cycle maintains the freshness of the coffee.
With the single serve coffee, you get a 10-ounce coffee drink, whereas the carafe offers a 14-ounce drink.
Separate water reservoirs are something which is so uncommon. You will get individual reservoirs for different brewing, this makes the refilling task effortless. Also, you could quickly know when to refill the reservoir.
Among the drawbacks, Spilling and leak reports were found with this Hamilton Beach Coffee Maker. I will recommend you guys to check on the warranty policies and other benefits that you get with this unit. If the issue is within the warranty, then you can address it to the authority.
Other than this, it is a super cool option on our list which comes with a 2-way brewer at a decent price.
#6. Hamilton Beach 49983 2-Way FlexBrew Coffeemaker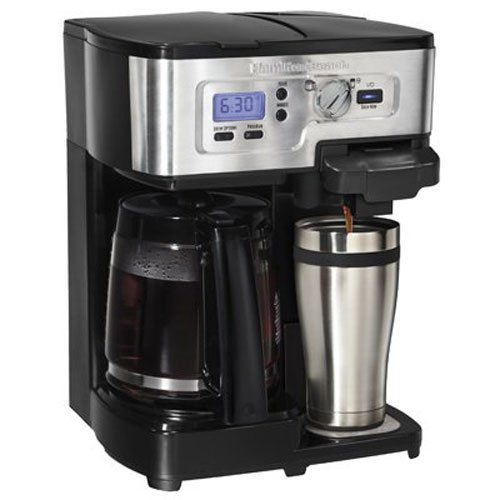 This is also yet another 2-way brewer machine which allows you to prepare single cup coffee as well as 12 cup carafe coffee. Comparing the model with the other models, it offers better multiple choices with varying cup size support. You can prepare a standard size coffee or even make a 14 ounce coffee for a travel mug.
Highly durable with the stainless steel used in the making, while almost all the parts are dishwasher safe. You can remove the components and put them in the dishwasher for cleaning.
Still, there are a few elements that are not suitable for dishwasher, so check the manual for better guidance.
Quick Overview
2-way Coffee Maker makes the coffee maker open to new variety and sizes. Make yourself a single-cup coffee as well as 14 ounces coffee for your travel mug.
The machinery parts are made of stainless steel, and so they are durable in quality. Even many of them are dishwasher safe.
Adjustable cup rest allows both standard cups as well as travel mugs. So, you can place both the cups on the same resting place on the Hamilton Beach Coffee Maker.
It is compatible with the K-cup pods, so get your favorite coffee pod and brew it out on this Hamilton FlexBrew machine.
It also includes an automatic shut-off feature which is enabled after 2 hours of inactivity. Here the time can be customized as per the requirement.
Warranty of 1 year is included with this Coffee Machine.
Overall the quality and performance of the Coffee Maker are good, but we later came across one issue. The k-cup feature on the coffee maker may create some problem.
It gets out of control and will start spilling water making it all messy for you. Try to get the k-cup issue dealt way before you actually start using the machine. That's the only way I found to avoid all the spill trouble!
#7. Hamilton Beach (46205) Coffee Maker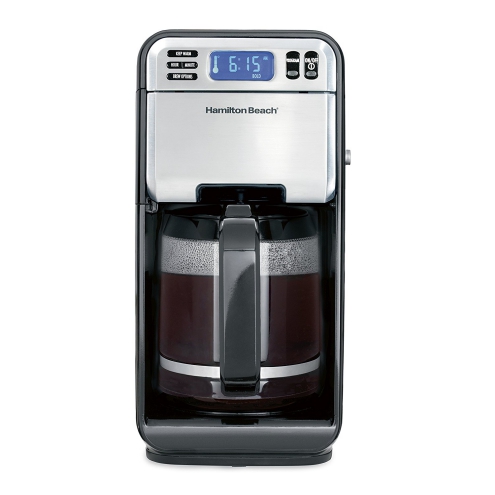 Do you need rotating base on the coffee maker unit? Hamilton Beach Coffee Maker 46205 gets you that. This way you can access the water reservoir from the rear side, with just a simple twist on the machine.
We all are aware of the morning rush that we go through, and things will only work out for you if you get something that makes the handling and coffee processing easy.
Set your morning coffee in advance and set them up a night before. This way you could brew in your 'cup of joe' and add a new routine to your mundane life.
Quick Overview
The warm plate is adjustable, so be sure to get the right kind of coffee which you planned to have.
Total of 3 brewing strengths are available on this, and they are Regular, Bold and 1/4 cup setting.
Even though you forget to turn off the device, the machine shuts down after 2 hours.
While you pour in your favorite coffee, the default setting of pause and serve is turned on. This keeps you safe after you have lifted the carafe from this place.
Non-stick warming plate and the easy-pour spout has made the cleaning quicker than before.
So, these are the features that are present on the Hamilton Beach Coffee Maker 46205. There are many other small components which you can know and study from the manual provided with the machine.
Adding the coffee grounds has been made easy with the swing basket attached to this coffee maker.
Here the water reservoir is removable, so you can take it out whenever you wish and clean the machine regularly. It is important that you take care of the product in the right way if you need them to last for long.
#8. Hamilton Beach 10-Cup Coffee Maker, Dispensing Coffee Machine
This one is quite similar to the previous model, which includes the BrewStation utility on it. If you are someone who usually drinks coffee after about 1 hour of making, then you must probably get one of these coffee makers.
You can make your coffee, and the system will keep it warm and fresh for almost 2 hours! Therefore, your last cup of coffee will also taste as fresh as the first one.
The Hamilton Beach Coffee Maker includes an internal heater which does all the job relating to warming the coffee. There is no glass carafe in here, so almost nothing fragile or delicate which can break easily.
Also, you can single-handedly perform the dispensing of the coffee drink from the machine.
Coming to the working, it is pretty much similar to the traditional coffee makers. This 10-Cup capacity machine has a bar which needs to be pressed to dispense the drink.
In case you didn't turn off the system, the automatic shut-off utility will do this job for you. It will keep the coffee warm for straight 2 hours, and then turn off the Coffee Machine. The reservoir is a removable one, so you can take it out and wash it whenever you wish to.
#9. Hamilton Beach (47900) 12-Cup Coffee Maker Dispensing Coffee Machine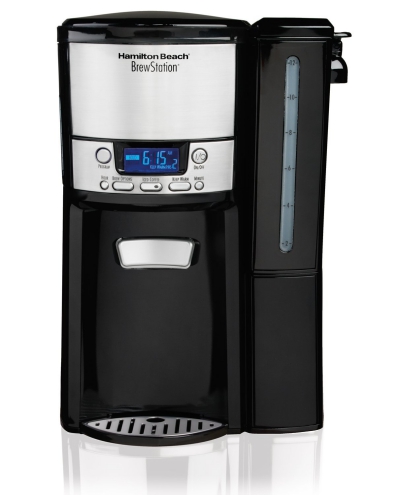 The brand is known for its unique and elegant products, and they have maintained it even for the next Coffee Maker. It's an enclosed coffee maker which has got an internal heater running within, and you know what it does! This keeps the coffee fresh for some extra hours for you, for an approx. for 4 hours!
This keeps your coffee fresh for an extra 2 hours than the usual 2 hours limit.
This Hamilton Beach Coffee Maker could brew about 12 cups by adopting the traditional coffee making method. It is a carafe-less system and keeps the coffee stored inside an internal tank setup.
There is another utility here which is called as the wake-up coffee, using which you can set a coffee process in the night for next morning coffee drink.
It supports a 24 hours advance coffee setting, in which the system will run at the exact time set by you. This is how Hamilton makes your life smooth and your mornings brighter than before.
Along with the 4 hours warming setting, the machine also supports an automatic shut-down feature where the coffee machine turns off on its own after 4 hours of inactivity.
The EndNote
So, these were my recommendations for the Hamilton Beach Coffee Maker! There are lots of options available online, but still, the above ones remain my most-favorite.
Did you like the listed products? What is your feedback about the choices and the reviews?
Let us know your comments in the space provided below, and yes follow us for more updates and other latest Coffee Trends!
Check out some great products from our Favorite Brands