Are you a lover of strong tasting coffee? Then you should try out the Indian Filter Coffee once in your lifetime. This is a strong coffee shot prepared using a coffee filter, with high milk content.
In this post, I will discuss all the stuff that you need to know about a Filter Coffee, and also on how it is prepared!
How to Make Indian Filter Coffee?
For preparing an Indian Filter Coffee, you need to have a coffee filter for this purpose. This is not the usual filter systems, but a unique equipment. This setup comes with two cylindrical cups, one with a plain bottom and another with a holed one. This pierced cup is placed on the top of the tumbler cup.
The cup which is placed on the above has two removable components on it. One is the pierced disc which is used during the press and the lid which is used for the closing of the coffee filter.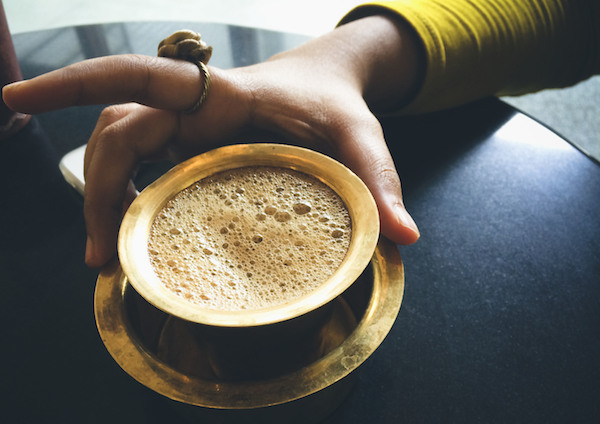 You just need 5 mins for the preparation, and 10 mins with the processing.
Ingredients needed for the Filter Coffee
Coffee filter
Coffee powder
Water
Milk (according to the number of servings)
Sugar as required
The Recipe
Take 3 tbsp of the coffee powder and add it to the upper container. Then fix it to the lower container, and tap it for settling the grounds evenly inside.
On the other side, you need to set water to a boiling state and pour this boiling water into the coffee grounds. Then close the lid of this container, and leave it for about 10-15 mins.
You will find the coffee extracts being collected in the lower container placed on the bottom side. Boil milk and keep stirring it well. Now, take the cup to fill it up with the coffee extracts, milk and an appropriate amount of sugar.
If you want to make it strong, then add more of the coffee decoction, otherwise, keep it low. Serve it hot in the traditional filter cup with the Davarah (metal saucer with the lipped walls) on the bottom.
Filter Coffee is served in this style, so you can even maintain try this tradition at your home.
A simple tip for making a great Filter Coffee:
Always make use of fresh coffee grounds every time you make a filter coffee, and also the filter needs to be dry before you add the coffee powder.
The EndNote
This was my take on Indian Filter Coffee and their preparation. Hope you guys loved it!
Share us your tips and other suggestions, something which I missed upon. I would love to hear from you guys.
For more such creative coffee recipes & Coffee news – one and only one stop CoffeeMakered!