Today we feature a post from our guest author Rodion Yeroshek, Co-Founder & CEO at Poster POS
Today coffee is not just a drink, it's a whole culture! People prefer to drink coffee outside the home and are willing to pay for unique and tasty coffee at the coffee shop more than they were, say, 20 years ago. French Toast Latte, Affogato, Kaffeost, Ca Phe Trung, Cafezinho… You think I'm speaking another language right now? Well, perhaps I am, and the name of this language is coffee.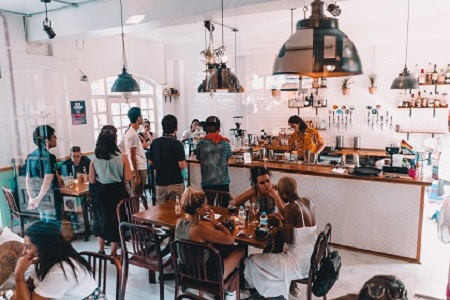 Have you noticed that memorable craft coffee shops are replacing the boring old ones? New places aim to surprise, impress, and make people want to come back for new recipes, combinations of flavors and ingredients, and innovative cooking and roasting technologies.
The thing is, though, you won't be able to start a successful coffee shop business without high-quality professional equipment. If you have already looked at the prices of professional coffee makers and were scared, then don't worry, that's just the tip of the iceberg. So, let's find out what kind of equipment you need to look for and how to choose the best.
What Must I Consider When Choosing Equipment
The number of seats. When you know the exact number of seats in your coffee shop (unless you offer to-go only) you'll able to determine the burden on the kitchen (if you have one) and bar equipment at the busiest time of the day.
Working area. This parameter directly affects equipment configuration. For example, you simply won't be able to fit all the equipment required in a small room. If this is the case, you'll have to sacrifice some items or purchase less kitchen/bar supplies.
Take into account your menu. Some of your menu items might need special equipment to prepare, so bear this in mind.
Equipment Requirement
A coffee shop counter is a complex structure, where every item should have its own place. To help you a little, I set out below the priorities.
Equipment operating conditions. As a rule, a kitchen will have high humidity and high temperatures. Therefore, the quality of the materials the equipment is made of directly affects their operation. Compare different models, read descriptions and specifications, and search for reviews to make sure that the chosen item is ideal for your coffee shop.
Reliable equipment vendor. Take this question seriously. It is better to purchase equipment from the manufacturers or official dealers that distribute one or two brands.
Prices. Do a little research. You need to know at least two prices for each item of equipment to find the most reasonable price.
Equipment for a Coffee Shop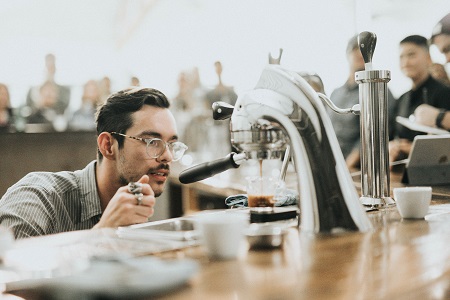 Equipment purchasing is one of the most costly parts of the coffee shop business plan and always depends on a cafe menu and concept. As I have already said, quality equipment is quite expensive. As an alternative, you could consider the option of buying a used coffee maker or espresso grinder, which will be almost twice as cheap. Or you can lease the necessary equipment, or maybe your coffee suppliers will provide you with a few items on condition that you are willing to buy a certain amount of coffee over one or more years. Or they might give you some advice about buying equipment depending on the volume of coffee. Every coffee shop owner knows best what his business needs, for sure. Still, here is an approximate list of equipment that you might need.
Coffee Shop Equipment Checklist
Automatic Drip Coffee Makers
Espresso Machine
Espresso grinder
Frappe and smoothie blenders
Refrigerators and Freezers
Ice machine
Foodservice equipment (microwave, toasters, blenders etc.)
Dishwashers
Shelving
Coffee smallwares (scales, espresso tampers, measuring cups and spoons, etc.)
A Couple More Things…
This list doesn't end here. There are a couple of things that are important and need a brief information about them.
Coffee Shop Furniture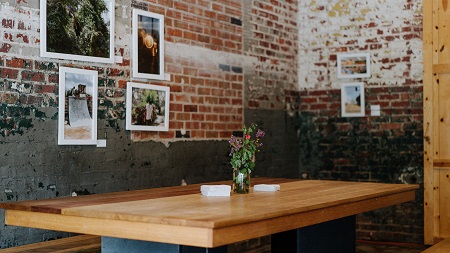 This all depends on the size of the coffee shop, your concept, and whether or not you have an open-air terrace. For example, a medium-sized coffee shop usually has about 20-30 seats and this means that 10 tables will be more than enough. You can always save money and buy used furniture in good condition. The classic coffee shop concept doesn't require a significant expenditure on furniture. So, you could cooperate with local furniture manufacturers and maybe get some discounts for mentioning them on your social media or giving away their business cards to your future customers.
Once again, if your budget allows you to buy furniture from Italy made to your own individual sketch, go ahead! No matter how expensive it is, remember that the main idea is that people feel cozy. For a coffee house, it is better to choose light and comfortable furniture that doesn't take up too much space. This allows you to fit in more tables, at the same time leaving enough space for people to walk.
Cloud POS System
Thank God the times are over when small business owners (including coffee shop owners), had to spend too much time making reports and statistical analyses. Today, there are a ton of different POS systems on the market aimed at helping every business owner quickly and accurately take orders, change the menu and prices, view different types of reports and have constant access to all the needed data in real time… and much more! Believe me, it will make your life hugely easier!
Choose the system that most fits your needs at the first place! You can try a few out and then make a decision. You need to be sure that the software has all the features you are looking for. For example, if you want to provide coupons and various discount cards for your customers so as to increase their loyalty to your brand, you definitely need a system that has built-in loyalty systems. You see what I'm getting at? It all depends on you and your business preferences.
Used or New?
If you still want to take up some used equipment, don't forget about wear and tear. You should be very careful while choosing and purchasing used equipment. Ask for advice from other cafe owners and search for reviews on the Internet. It's okay at the very start of your business when your budget is limited. Remember, after you reach payback it will be so much easier to allocate money to new equipment.
As I've mentioned before, there are still a couple of options, like leasing or getting a free set of equipment from a coffee supplier (when entering into long-term contracts with product suppliers or connecting to a franchise).
For example, you can lease branded refrigerators from beverage manufacturers or coffee machines from top coffee brands (in cases where you have been in contact with them for several years).
But here you need to be very attentive, thoroughly examining the terms of such a lease. Sometimes it is more advantageous to buy new equipment from the manufacturer, than a coffee maker "for free" and work with equipment that is constantly breaking down, while at the same time buying products at an inflated price.
I hope this helps you avoid mistakes when choosing equipment for your coffee shop, and make the right choice. Good luck!